01.12.2018 | Research article | Ausgabe 1/2018 Open Access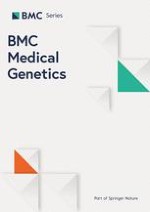 Clinical and molecular characterization of
POU3F4

mutations in multiple DFNX2 Chinese families
Zeitschrift:
Autoren:

Yu Su, Xue Gao, Sha-Sha Huang, Jing-Ning Mao, Bang-Qing Huang, Jian-Dong Zhao, Dong-Yang Kang, Xin Zhang, Pu Dai
Wichtige Hinweise
Yu Su, Xue Gao and Sha-Sha Huang contributed equally to this work.
Abstract
Background
Many X-linked non-syndromic hearing loss (HL) cases are caused by various mutations in the POU domain class 3 transcription factor 4 (
POU3F4
) gene. This study aimed to identify allelic variants of this gene in two Chinese families displaying X-linked inheritance deafness-2 (DFNX2) and one sporadic case with indefinite inheritance pattern.
Methods
Direct DNA sequencing of the
POU3F4
gene was performed in these families and in 100 Chinese individuals with normal hearing.
Results
There are characteristic imaging findings in DFNX2 Chinese families with
POU3F4
mutations. The temporal bone computed tomography (CT) images of patients with DFNX2 are characterized by a thickened stapes footplate, hypoplasia of the cochlear base, absence of the bony modiolus, and dilated internal acoustic meatus (IAM) as well as by abnormally wide communication between the IAM and the basal turn of the cochlea. We identified three causative mutations in
POU3F4
for three probands and their extended families. In family 1468, we observed a novel deletion mutation, c.973delT, which is predicted to result in a p.Trp325Gly amino acid frameshift. In family 2741, the mutation c.927delCTC was identified, which is predicted to result in the deletion of serine at position 310. In both families, the mutations were located in the POU homeodomain and are predicted to truncate the C-terminus of the POU domain. In the third family, a novel de novo transversion mutation (c.669 T > A) was identified in a 5-year-old boy that resulted in a nonsense mutation (p.Tyr223*). The mutation created a new stop codon and is predicted to result in a truncated POU3F4 protein.
Conclusions
Based on characteristic radiological findings and clinical features,
POU3F4
gene mutation analysis will increase the success rate of stapes operations and cochlear implantations, and improve molecular diagnosis, genetic counseling, and knowledge of the molecular epidemiology of HL among patients with DFNX2.