01.12.2017 | Research article | Ausgabe 1/2017 Open Access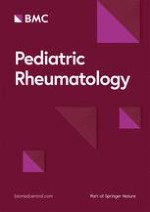 Clinical and MRI outcome of cervical spine lesions in children with juvenile idiopathic arthritis treated with anti-TNFα drugs early in disease course
Zeitschrift:
Autoren:

Damjana Ključevšek, Nina Emeršič, Nataša Toplak, Tadej Avčin
Abbreviations
aAAS
Anterior atlanto-axial subluxation
ESR
Erythrocyte sedimentation rate
JIA
Juvenile idiopathic arthritis
jPsA
Juvenile psoriatic arthritis
MRI
Magnetic resonance imaging
RAMRIS
Rheumatoid arthritis MR imaging score
STIR
Short Tau inversion recovery
Background
Methods
The study was designed as a retrospective cohort study with longitudinal follow-up of clinical and MRI data in children with JIA. The charts of 407 children with JIA treated at the University Children's Hospital between September 2010 and July 2016 were reviewed and all children with cervical spine involvement confirmed by MRI examination were included in the study.
In all children clinical signs of neck involvement (LROM, neck pain, stiffness and torticollis) and involvement of other axial and peripheral joints were assessed at the time of initial presentation of cervical arthritis and at their last follow-up visit. MRI of cervical spine was performed in all children within 3 weeks of clinical notion of cervical spine involvement and evaluated according to the hospital protocol. All MRI examinations of cervical spine included at least one short Tau inversion recovery (STIR) (usually in coronal or sagittal plane), T2 TSE and T1 TSE in sagittal and axial plane, T1 TSE FS axial, and postcontrast sequences T1 TSE FS in 2 or 3 planes (Magnetom Aera or Avanto 1.5 T MR Siemens Healthcare). MRI evaluation of cervical spine consisted on determination of synovitis, bone changes and the presence of malalignment. Synovitis was evaluated as presence of synovial thickening in cervical spine (predental and paradental space of atlanto-axial joint, atlanto-occipital joints and facet joints), presence of fluid in these joints, and evaluation of ligaments in this region (transversus, alar and apical ligaments). Enhancement of synovia and joints after i.v. administration of paramagnetic contrast medium was determined. Bone evaluation consisted of presence or absence of bone edema and morphologic changes of bone (dens deformation, thinned corticalis of bone in involved region, erosions, ankyloses). Malalignment was evaluated as abnormal position of articular surfaces of atlanto-occipital (basilar invagination), atlanto-axial (anterior atlanto-axial subluxation - aAAS), facet joints (subaxial subluxation), and narrowing of craniocervical spinal canal. In children with suspected malalignment radiography of cervical spine in antero-posterior and lateral position was performed.
Data about therapy including the type of medication and time from disease onset and treatment introduction was collected for all patients.
Follow-up examinations included clinical evaluation and serial follow-up MRI examinations of cervical spine. The timeframe of follow-up MRI examinations depended on the severity of cervical spine inflammation found on the initial MRI and treatment efficacy. Persistent clinical signs (more than 3 months) were indication for earlier MRI follow-up. If at least three compartments of AA and AO joints were involved, or additional facet joints inflammation, in case of abounded pannus resulting in malalignement, and presence of bone edema even in the case of good clinical response, follow-up MRI was performed 5 to 6 months after the initial one to make an objective evaluation of treatment response. In other children the first follow-up MRI was performed 9 to 12 months later. On average, patients had 2.4 (range 1–8) follow-up MRI examinations with mean time interval between the initial and the first follow-up examination 6.5 months (range 2 to 14 months) and between initial and the last MRI examination 27.9 months (range 6 to 71 months). Initial and follow-up MRI findings were compared and the response to therapy was determined as no response (same), partial improvement (reduced inflammation compared to previous MRI), and no inflammation (no MRI signs of active inflammation or minimal residual patchy enhancement). Serial MRI examinations enabled not only evaluation of treatment response, but also evaluation of the development of chronic bone changes during the observation period.
In addition, suspected malalignment was assessed on cervical radiography in antero-posterior and lateral projections in 3 children. Cervical radiography in antero and retroflexion positions was performed at the time when the patient had no signs of active inflammation.
Descriptive statistics was used to summarize the study.
Results
Initial presentation of cervical spine arthritis
Cervical spine involvement was identified in fifteen out of 407 (3.7%) children with JIA (4 boys and 11 girls) ranging in age from 2.5 to 15.1 years (mean 6.3 years). Eight children were diagnosed with rheumatoid factor (RF) negative polyarthritis (pJIA), 1 with RF positive polyarthritis, 3 with extended oligoarthritis (oJIA), 2 with persistent oJIA, and 1 with juvenile psoriatic arthritis (jPsA).
Cervical spine involvement occurred in 9/15 (60%) children within the first 6 months from the disease onset including 3 patients with cervical arthritis as the initial manifestation of JIA. Six out of 15 patients (40%) developed cervical spine arthritis more than 1 year after the disease onset. Mean disease duration at the time of diagnosis of cervical spine arthritis including 14 patients in our cohort was 5.2 months (range 1 month to 13 months), excluding the patient #11, who presented with cervical arthritis 13.5 years after the disease onset. All children clinically presented with LROM, two of them had stiff neck and one torticollis. Twelve children complained about the pain in the neck. None of our patients developed cervical spine involvement as the isolated manifestation of JIA. Mean number of active peripheral joints at the time of diagnosis of cervical spine arthritis was 18.1 (range 2 to 40 active peripheral joints). Three out of 15 patients (20%) had signs of temporomandibular joint (TMJ) arthritis together with cervical spine arthritis. One patient had associated uveitis.
Laboratory examinations at the time of presentation revealed normal erythrocyte sedimentation rate (ESR) in 2 and elevated ESR in 13 patients with the mean value of 36 mm/h (range 9 to 77), mean white blood cell (WBC) count 8.9 × 10 9/L (range 5.7–19.3), mean hemoglobin109 g/L (range 92–133) and mean platelet count 457 × 10 9/L (range 109–782). Ten out of fifteen (67%) patients had positive antinuclear antibody (ANA) titres. Only one out of 11 patients had positive human leukocyte antigen (HLA) B27. Fourteen patients had negative RF and one patient (#12) was RF positive.
Initial MRI examination demonstrated in all children atlanto-axial synovitis with enhanced synovia during i.v. application of paramagnetic contrast medium, 9 had also fluid in predental space. Co-existed atlanto-occipital synovitis was found in 6 children, and additional fluid in joint space was found in 3. Involvement of facet joints was seen in 8 children including one child with 6 affected facet joints. Bone edema of masse lateralis and thickened ligaments were found in 2 children. Anterior atlanto-axial subluxation at presentation was seen in one girl (patient # 8). No morphological changes of bone (cortical thinning or dens deformation) or erosions were seen in the initial MRI examinations.
All children were initially treated with high-dose intravenous pulse methylprednisolone therapy followed by oral corticosteroid and methotrexate (MTX, 10-15 mg/m2/once per week per os). Eleven out of 15 (73.3%) patients were additionally treated with anti-TNFα drug within 3 months of clinical signs of cervical spine involvement confirmed by MRI (6 with infliximab, 3 with etanercept, and 2 with adalimumab). There was a delay in introduction of biological treatment in 3/15 children. The delay of 4 months between the initial sign of cervical spine involvement and treatment with biologics in one patient (#14) was due to parents concerns regarding the safety of biological treatment. Two patients in our cohort (#12 and # 13) were initially treated only with corticosteroids and MTX according to the decision of the treating physician and received treatment with infliximab 6 months after the beginning of cervical spine involvement due to unsatisfactory results with initial treatment seen in the follow-up MRI. Both patients were later treated with infliximab and achieved a sustained remission. One patient (#15) from our cohort was treated only with MTX and pulse methylprednisolone therapy and did not receive biologics due to parent refusal. This patient also achieved inactive disease state.
Follow-up
The mean observation time from diagnosis of cervical spine arthritis to July 2016 was 2.9 year (from 0.5 to 6.8 years).
At the last follow-up examination 4 children had still some cervical LROM, but all children were without pain, torticollis or neck stiffness. Peripheral joint arthritis persisted only in 4 patients with 1 to 5 active peripheral joints. ESR significantly decreased to mean value of 11 mm/h (range 4–25 mm/h). Decreases were also noted in the mean value of WBC (7.3 × 10 9/L (range 2.9–11.7)) and mean platelet count (308 × 10 9/L (range 128–411)), while hemoglobin level increased to the mean value of 123 g/L (range 107–141)).
Mean duration of treatment with biologics in our cohort was 2.2 years (range 0.5 to 4.5 years). In three patients treatment with biologics was stopped after a mean period of remission on treatment for 3.4 years (range 2.1 to 4.5 years). After stopping treatment with anti-TNFα two patients remained in sustained remission without any treatment for more than 2 years, and one patient continued treatment with MTX. A girl with jPsA (patient # 7) who stopped treatment with biologics after 2.1 years remained in remission without treatment for 2.3 years, and then presented with reactivation of cervical spine arthritis with MRI signs of synovitis of atlanto-axial, atlanto-occipital and right C2-C3 facet joints. She was retreated with infliximab and again achieved a stable remission for 1.5 years.
The last follow-up MRI revealed no signs of inflammation in 12 patients (6 with no signs of arthritis and 6 with minimal residuals in a form of minor patchy enhancement of cervical synovia, which could be considered as normal), in 2 patients improvement of arthritis, but with MRI signs of persistent active inflammation (remnants of synovial thickening with moderate contrast enhancement in patients # 5 and # 6, both received anti-TNFα for 6 months)(Fig.
1
), and in one significant improvement of arthritis, but with mild to moderate MRI signs of active inflammation (patient#8) (Fig.
2
).
×
×
Chronic changes (late sequels) in cervical spine due to inflammation were seen in 3 patients at the last follow-up MRI examination. Two of them (patients #12 and #15) had minor chronic changes in a form of irregular bone contour of dens and thinned corticalis. In addition, the girl with RF positive polyarthritis (patient #12) had thickened transverse ligament not compromising the spinal canal, and the boy (patient #15) had borderline aAAS (5 mm) without additional increase of the distance during functional radiography of cervical spine. More severe chronic changes were found in a girl (patient #8) who initially presented with severe inflammation in upper cervical spine and significant a AAS (13 mm), narrowing of spinal canal at this level with compression of the spinal cord at the initial MRI (Fig.
2a
). At the last follow-up MRI the aAAS reduced to 6 mm with remnants of thickened ligament in anterior atlanto-axial space and morphologically deformed enlarged dens with bulging dorsal contour (Fig.
2b
). There were no signs of chronic changes in other children.
Discussion
A significant clinical observation in our study was that all children had peripheral joints involvement and in addition, 20% of them had co-existing unilateral or bilateral TMJ arthritis. The TMJ MRI examinations from our patients with TMJ involvement showed severe TMJ inflammation in all cases with intensive synovitis, joint fluid and significant morphological changes of mandibular condyles. In only few TMJ MRI examinations atlanto-axial joint was seen on T2 coronal sequence and we found in one patient signs of inflammation in atlanto-axial joint without clinical complains of pain and LROM. To identify patients with TMJ arthritis and possible clinically covert cervical spine involvement we suggest to include the atlanto-axial joints in coronal plane also on standard TMJ MRI examinations.
Conclusions
In conclusion, in children with JIA and cervical spine involvement the early treatment with anti-TNFα drugs showed good results evaluated with follow-up MR examinations. Prompt treatment led to significantly reduced inflammation or complete remission, and prevented the development of chronic/late changes. To determine the prevalence and severity of chronic changes in patients with early cervical arthritis treated with "biologics" further long term studies should be performed in larger population of JIA patients.
Acknowledgements
Not applicable.
Funding
There were no extra funding related to this study.
Availability of data and materials
All data generated or analysed during the study are included in this published article.
Author's contributions
TA and DK accompanied in designing the study. NT and NE analysed and interpreted the patient data regarding the clinical and laboratory data. DK analysed and interpreted the MRI examinations. All authors collaborated in writing the manuscript, read and approved the final manuscript.
Competing interests
TA declares speakers bureau (AbbVie, Pfizer, Octapharma) and advisory board (Bristol-Myers Squibb, Octapharma, Boehringer-Ingelheim). DK, NE and NT declare that they have no competing interest.
Consent for publication
Not applicable.
Ethics approval and consent to participate
As this study is a retrospective chat and MRI of cervcial spine review, and according to the Finnish regulations, no informed consent is needed. Laboratory tests and MRIs of cervical spine were taken and performed according to clinical practice, and no extra samples or MRI were taken for study purposes.
Publisher's Note
Springer Nature remains neutral with regard to jurisdictional claims in published maps and institutional affiliations.
Open Access
This article is distributed under the terms of the Creative Commons Attribution 4.0 International License (
http://​creativecommons.​org/​licenses/​by/​4.​0/​
), which permits unrestricted use, distribution, and reproduction in any medium, provided you give appropriate credit to the original author(s) and the source, provide a link to the Creative Commons license, and indicate if changes were made. The Creative Commons Public Domain Dedication waiver (
http://​creativecommons.​org/​publicdomain/​zero/​1.​0/​
) applies to the data made available in this article, unless otherwise stated.