01.12.2018 | Research article | Ausgabe 1/2018 Open Access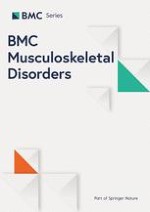 Clinical and radiographic outcomes of cervical disc arthroplasty with Prestige-LP Disc: a minimum 6-year follow-up study
Zeitschrift:
Autoren:

Junfeng Zeng, Hao Liu, Xin Rong, Beiyu Wang, Yi Yang, Xinlin Gao, Tingkui Wu, Ying Hong
Abstract
Background
Cervical disc arthroplasty (CDA) has been considered as an alternative to cervical arthrodesis in the treatment of cervical degenerative disc diseases (CDDD). The aim of this study was to assess the long-term clinical and radiographic outcomes of CDA with Prestige-LP Disc.
Methods
A total of 61 patients who underwent single- or two-level CDA with Prestige-LP Disc were retrospectively investigated at a minimum of 6-year follow-up. Clinical assessments included visual analogue scale (VAS) for neck and arm pain, Neck Disability Index (NDI), and Japanese Orthopedic Association (JOA) score. Radiological evaluations included range of motion (ROM) of the index and adjacent levels, segmental angle, cervical sagittal alignment, heterotopic ossification (HO) and adjacent segment degeneration (ASD).
Results
Significant and maintained improvement in VAS for neck and arm, NDI and JOA were observed after a mean follow-up of 82.3 months (
p
 < 0.001). The preoperative ROM of the index level was 9.7°, which was maintained at 2-and 4-year follow-up (9.3°,
p
 = 0.597; 9.0°,
p
 = 0.297), but was decreased to 8.0° at final follow-up (
p
 = 0.019). Mobility was maintained in 80.5% (62/77) of the implanted prostheses at final follow-up. ROM of the superior and inferior adjacent segments, cervical sagittal alignment and cervical angel were all maintained. The incidence of HO was 42.9% at final follow-up, but it did not influence the clinical outcome. Radiographic ASD were detected in 29.5% of the patients. However, the incidence of symptomatic ASD was only 6.6%.
Conclusion
Cervical disc arthroplasty with Prestige-LP Disc demonstrated a maintained and satisfactory clinical outcome at a minimal of 6-year follow-up, with majority of the prostheses remained mobile. Cervical disc arthroplasty with Prestige-LP Dis can be considered as an effective surgical method in treating CDDD.