11.01.2017 | Original Article - Brain Injury | Ausgabe 4/2017 Open Access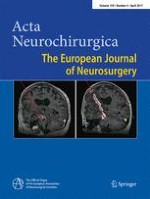 Clinical audit effectively bridges the evidence-practice gap in chronic subdural haematoma management
Zeitschrift:
Autoren:

Jignesh Tailor, D. Fernando, Z. Sidhu, R. Foley, K. D. Abeysinghe, D. C. Walsh
Wichtige Hinweise
Presented at the EANS Annual meeting 2015 in Madrid, Spain (oral presentation).
Abstract
Background
Placement of a subdural drain after drainage of chronic subdural haematoma (CSDH) has been shown to reduce the rate of recurrence in several randomised controlled trials (RCT). The most recently published RCT was from Cambridge, UK, in 2009. Despite class I evidence for the use of subdural drains, it is unclear whether these results have been translated into clinical practice. In this clinical audit we review the use of subdural drains in our institution before and after the publication of the 2009 RCT results.
Methods
A longitudinal retrospective study was performed on all adults having burr holes for CSDH between January 2009 and January 2014. Case notes were analysed to determine subdural drain use, re-operation for CSDH recurrence and post-operative complications. The audit loop was closed with data collected from August 2015 to January 2016.
Results
Thirty-one per cent of patients had subdural drains placed at operation. Drain placement was associated with lower reoperation rates (8% vs. 17%, p = 0.021) without increasing complication rates. Drain usage doubled after publication of the Santarius et al. (2009) trial but we observed persisting and significant variability in drain utilisation by supervising consultants. The use of drains in the department increased from 35% to 75% of all cases after presentation of these results.
Conclusions
The use of subdural drains in our unit reduced recurrence rates following drainage of CSDH and reproduced the results of a 2009 clinical trial. Although the use of subdural drains doubled in the post-trial epoch, significant variability remains in practice. Clinical audit provided an effective tool necessary to drive the implementation of subdural drain placement in our unit.