01.12.2016 | Research article | Ausgabe 1/2016 Open Access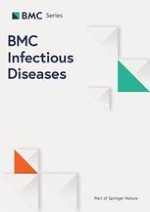 Clinical characterisation and phylogeny of respiratory syncytial virus infection in hospitalised children at Red Cross War Memorial Children's Hospital, Cape Town
Zeitschrift:
Autoren:

Regina Oladokun, Rudzani Muloiwa, Nei-yuan Hsiao, Ziyaad Valley-Omar, James Nuttall, Brian Eley
Abstract
Background
Respiratory syncytial virus (RSV) is a major cause of lower respiratory tract infection in young children in both the community and hospital setting.
Methods
The clinical presentation, patient and phylogenetic characteristicsof laboratory-confirmed cases of RSV, as well as risk factors for nosocomial infectionat Red Cross War Memorial Children's Hospital in Cape Town were analysed. A multiplex PCR assay that detects 7 respiratory viruses was used to identify RSV nucleic acid on respiratory specimens.
Results
A total of 226 children were studied, ages ranging between 1 week and 92.5 months (median: 2.8 months, IQR: 1.3–6.3 months) and 51.8 % were males. The median duration of symptoms prior to diagnosis was 2 days (IQR: 1–4 days). Nosocomial infections wereidentified in 22 (9.7 %) children. There were pre-existing medical conditions in 113 (50.0 %) excluding HIV, most commonly prematurity (
n
 = 58, 50.0 %) and congenital heart disease (
n
 = 34, 29.3 %). The commonest presenting symptoms were cough (196, 86.7 %), difficulty in breathing (115, 50.9 %) and fever (91, 41.6 %).A case fatality rate of 0.9 % was recorded. RSV group A predominated (
n
 = 181, 80.1 %) while group B accounted for only 45 (19.9 %) of the infections. The prevalent genotypes were NA1 (
n
 = 127,70.1 %), ON1 (
n
 = 45,24.9 %) and NA2 (
n
 = 9,5.0 %) for group A while the only circulating RSV B genotype was BA4. There was no significant difference in the genotype distribution between the nosocomial and community-acquired RSV infections. Age ≥ 6 months was independently associated with nosocomial infection.
Conclusions
A large percentage of children with RSV infection had pre-existing conditions. Approximately one tenth of the infections were nosocomial with age 6 months or older being a risk factor. Though both RSV groups co-circulated during the season, group A was predominant and included the novel ON1 genotype. Continued surveillance is necessary to identify prevalent and newly emerging genotypes ahead of vaccine development and efficacy studies.