01.12.2015 | Research article | Ausgabe 1/2015 Open Access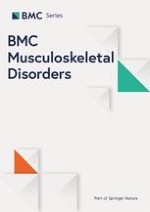 Clinical characteristics and biopsy accuracy in suspected cases of Sjögren's syndrome referred to labial salivary gland biopsy
Zeitschrift:
Autoren:

Raquel A Giovelli, Maria CS Santos, Érica V Serrano, Valéria Valim
Wichtige Hinweise
Competing interests
The authors declare that they have no competing interests.
Authors' contributions
RAG participated in all stages of preparation of the article, conception and design, acquisition of data, analysis and interpretation of data. She has been involved also in drafting the manuscript and revising it critically for intellectual content. MCSS has been involved in drafting the manuscript and revising it critically for important intellectual content, has given approval of the article's final version for publication, agreed to be accountable in all aspects of the work in ensuring that questions related to the accuracy or integrity of any part of the work are appropriately investigated and resolved. EVS helped during the acquisition of data and drafting the manuscript. VV wished and designed this project, supervised acquisition, analysis and interpretation of data. She drafted and revised critically the manuscript. She was responsible for accuracy and integrity of data. All authors read and approved the final manuscript.
Abstract
Background
Labial salivary gland biopsy (LSGB) is the most important diagnostic tool for the diagnosis of Sjögren's syndrome (SS), but its diagnostic value is rarely studied. This study assessed the sensibility and specificity of LSGB, and the clinical profiles of patients who were referred for biopsy.
Methods
Retrospective analysis of the histopathological reports from LSGB and medical report data from patients who underwent LSGB between 2008 and 2011 was conducted.
Results
About 290 biopsies were performed and 74 were excluded due to insufficient clinical data. Of the 216 patients, 0.46% was carrier of hepatitis C virus, 30.1% had primary SS (pSS), and 8.8% had secondary SS (sSS). Of the samples, 94.3% presented dryness symptoms, 51.6% experienced dryness only, 42.7% had systemic manifestations, and 66.9% presented low unstimulated salivary flow and/or Schirmer's test. LSGB was necessary in 67.6% to confirm the presence of SS based on the American-European Consensus Group 2002 criteria (AECG). Based on specialist's opinion, sensibility level was 86.57%, and specificity was 97.43%. Positive predictive value (PPV) was 95%, and negative predictive value (NPV) was 92.6%. Determined accuracy was 93.3%. Concordance (kappa coefficient) of LSGB and specialist's opinion was 0.851, and LSGB with AECG criteria was 0.806. Of the 98 patients referred with fibromyalgia and dryness, 36.7% had SS and LSBG focus score of ≥ 1. Patients with SS were older, and showed more severe lachrymal and salivary dysfunctions, greater frequency of fibromyalgia, anti-nuclear antibodies (ANA), anti-SSA-Ro, and anti-SSB-La.
Conclusions
Labial salivary gland biopsy has high sensibility, specificity, positive and negative predictive values for diagnosis of pSS. In the clinical practice, it is useful, especially for those patients with glandular dysfunctions and negative antibodies.