01.11.2018 | Short Communication | Ausgabe 11/2018 Open Access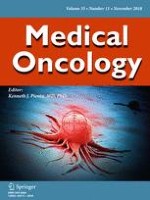 Clinical Characteristics and efficacy of chemotherapy in sclerosing epithelioid fibrosarcoma
Zeitschrift:
Autoren:

Winston Chew, Charlotte Benson, Khin Thway, Andrew Hayes, Aisha Miah, Shane Zaidi, Alex T. J. Lee, Christina Messiou, Cyril Fisher, Winette T. van der Graaf, Robin L. Jones
Abstract
Background
Sclerosing epithelioid fibrosarcoma (SEF) is a very rare soft tissue sarcoma subtype. Clinically it is an aggressive tumour; however, to our knowledge there are no published reports regarding the efficacy of chemotherapy in SEF. Therefore, the aim of this study was to document the outcome of a series of patients with SEF treated at a single referral centre with reference to systemic therapy.
Methods
A retrospective search of a prospectively maintained database was performed to identify all patients diagnosed with SEF between 1990 and 2017. The diagnosis was confirmed in each case by a dedicated soft tissue sarcoma pathologist. We analysed those with recurrent disease and the effect of systemic chemotherapy in the metastatic setting.
Results
Thirteen patients were identified, median overall survival from diagnosis and metastasis were 47.3 (95% CI 25.0–131.9) and 16.3 (95% CI 5.3–20.6) months, respectively. In total, 12 (92.3%) patients developed metastatic disease of which 10 died of disease, 1 was lost to follow-up and 1 had recently commenced palliative treatment. Among the 10 patients with metastatic disease, 7 received palliative chemotherapy. Palliative chemotherapy resulted in partial response in 1 patient, stable disease in 3 patients and progressive disease in 3 patients. Median time to disease progression was 2.7 (95% CI 1.2–4.4) months. Two of 13 patients were treated with adjuvant chemotherapy, receiving 6 cycles of liposomal doxorubicin and 1 cycle of doxorubicin, respectively, with a metastasis-free survival of 28.2 and 7.1 months, respectively.
Conclusion
SEF is an aggressive sarcoma subtype with a poor outcome and with limited responsiveness to conventional chemotherapy. Patients with this subtype should be considered for participation in clinical trials with novel agents. Further investigation into the biology of this rare disease is required to improve outcomes.