28.10.2019 | Original Article | Ausgabe 2/2020 Open Access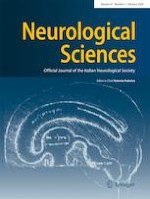 Clinical characteristics and long-term follow-up of seven cases of anti-GABABR encephalitis in patients of Han Chinese descent
Zeitschrift:
Autoren:

Wei Zeng, Liming Cao, Jinou Zheng, Lu Yu
Wichtige Hinweise
Publisher's note
Springer Nature remains neutral with regard to jurisdictional claims in published maps and institutional affiliations.
Abstract
Objective
To improve the diagnosis and treatment of anti-GABAB receptor (anti-GABABR) encephalitis and prevent misdiagnosis or non-diagnosis.
Methods
We retrospectively examined the chief clinical manifestations, auxiliary examination results, treatment strategies, treatment efficacy, and long-term follow-up results of seven consecutive patients with anti-GABABR encephalitis.
Results
Epileptic seizures were the first symptom in 100% of the patients; 85.7% had memory deficit in the hospital, 42.8% had residual symptoms of cognitive impairment at discharge, and 28.6% had cognitive impairment at the end of follow-up; 71.4% of the patients had psychosis in the hospital, 57.1% had residual symptoms of psychosis at discharge, and 14.3% still had psychosis at the end of follow-up. However, the clinical symptoms (psychiatric disorders, cognitive decline) and signs (consciousness disturbance) at onset and after follow-up were not significantly different (
P
> 0.05). In 71.4% of the patients, anti-GABABR antibody serum levels were higher than those in the cerebrospinal fluid (especially in patients with lung cancer). Magnetic resonance imaging in 71.4% of patients indicated that the marginal lobe demonstrated encephalitis lesions. The average modified Rankin Scale score (2.0
±
2.31) at follow-up was significantly better than that (3.86
±
0.90) at the time of admission (
P
< 0.05).
Conclusion
The clinical characteristics of anti-GABABR encephalitis were refractory epilepsy, psychiatric disorders, and cognitive impairment. Multiple antiepileptic drugs are crucial for the treatment of intractable epilepsy. Clinicians should eliminate the possibility of small-cell lung cancer in patients with high anti-GABABR antibody levels. Early active immunotherapy is effective, and the long-term prognosis is good for patients without tumors.