01.01.2011 | Original Article | Ausgabe 1/2011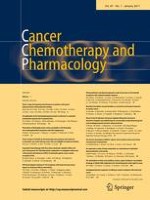 Clinical characteristics and treatment outcomes of gastric cancer patients with isolated para-aortic lymph node involvement
Zeitschrift:
Autoren:

In Hae Park, Sun Young Kim, Young-Woo Kim, Keun Won Ryu, Jun Ho Lee, Jong Seok Lee, Young-Iee Park, Noe Kyeong Kim, Sook Ryun Park
Wichtige Hinweise
I.H. Park and S.Y. Kim contributed equally to this work.
Abstract
Background
Although gastric cancer with isolated para-aortic lymph node (PAN) involvement is considered an advanced disease, the clinical characteristics of it have not been comprehensively elucidated.
Patients and methods
We reviewed the medical records of 1,277 patients received palliative chemotherapy with advanced gastric cancer according to metastatic sites: PAN-only metastasis, single organ metastasis other than PAN, and multiple organ metastasis. Time to other organ metastasis (TTOM) was determined only in PAN-only metastasis group as the time interval between initial diagnosis of recurrence or de novo metastasis and confirming distant metastasis beyond PAN area.
Results
The median overall survival (OS) of patients with PAN-only metastasis was significantly longer than that of patients with single organ metastasis other than PAN or multiple organ metastasis (13.8 months vs. 11.4 months vs. 8.4 months;
P
< 0.001). In the PAN-only metastasis group, patients with recurrent diseases showed longer TTOM beyond the PAN area (10.7 vs. 7.7 months;
P
= 0.037) and OS (23.8 vs. 12.8 months;
P
= 0.010) than those with de novo metastatic disease and it was validated by multivariate analysis.
Conclusion
Patients with isolated PAN metastasis showed an excellent prognosis compared with patients with metastasis at other sites and it was primarily evident in patients with recurrent PAN metastasis.