28.11.2016 | Original Article | Ausgabe 3/2017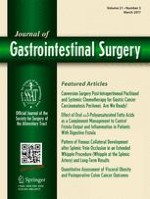 Clinical Characteristics of Stoma-Related Obstruction after Ileal Pouch–Anal Anastomosis for Ulcerative Colitis
Zeitschrift:
Autoren:

Yoshiki Okita, Toshimitsu Araki, Satoru Kondo, Hiroyuki Fujikawa, Shigeyuki Yoshiyama, Junichiro Hiro, Mikihiro Inoue, Yuji Toiyama, Minako Kobayashi, Masaki Ohi, Yasuhiro Inoue, Keiichi Uchida, Yasuhiko Mohri, Masato Kusunoki
Abstract
Aims
We defined small bowel obstruction occurring around the limbs of the ileostomy as stoma-related obstruction (SRO) and investigated the clinical characteristics and predictive factors of SRO.
Methods
From January 2002 to March 2016, 309 consecutive patients who underwent ileal pouch–anal anastomosis (IPAA) for ulcerative colitis were enrolled. Two-stage IPAA with diverting ileostomy was analyzed. We assessed the possible associations between SRO and clinical factors.
Results
A total of 205 patients met the inclusion criteria. Fifty-three (25.8%) patients with SRO before ileostomy closure were identified for review. All patients with SRO were at least transiently resolved by intubation though orifice of ileostomy (98.1%) or nasally (3.7%). In 18 (33.9%) patients, the ileostomy was taken down ahead of schedule and the small bowel obstruction improved in all cases. Multivariate analysis revealed that age at surgery <16 years old and body mass index <21 were significant predictive factors for SRO (
P
 = 0.013 and 0.0012, respectively).
Conclusion
Younger age at surgery and low body mass index may be significant predictive factors for SRO after IPAA with diverting ileostomy in patients with ulcerative colitis.