01.12.2014 | Case report | Ausgabe 1/2014 Open Access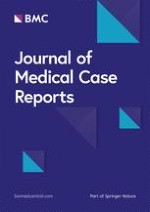 Clinical considerations in transitioning patients with epilepsy from clonazepam to clobazam: a case series
Zeitschrift:
Autoren:

Raman Sankar, Steve Chung, Michael Scott Perry, Ruben Kuzniecky, Saurabh Sinha
Wichtige Hinweise
Electronic supplementary material
The online version of this article (doi:
10.​1186/​1752-1947-8-429
) contains supplementary material, which is available to authorized users.
Competing interests
RS serves on scientific advisory boards for and has received honoraria and funding for travel from UCB Pharma, Sunovion, Upsher–Smith Laboratories, Supernus, Lundbeck LLC, and Acorda Therapeutics; and serves on speakers' bureaus for and has received speaker honoraria from UCB, GlaxoSmithKline, Cyberonics, Supernus and Lundbeck. He receives funding from NIH NINDS NS065783 (coinvestigator), NS045911 (site PI CAE Study), P20 NS080181 (Epilepsy Research Centers without Walls), as well as from Pfizer (Lyrica pediatric partial seizures trial) and Bluebird Bio trial for gene therapy for ALD. He has received royalties for books from CRC Press and Demos Publishers. SC received funding for consulting, serving on scientific advisory boards or speakers' bureaus, or other activities from UCB Pharma, Supernus, Eisai, Lundbeck LLC, Upsher–Smith Laboratories, SK Life Science, and Acorda. MSP has served on speakers' bureaus for Lundbeck LLC, Quest Diagnostics, and Transgenomics, as well as advisory boards for Lundbeck LLC and Eisai. RK has served on the speakers' bureaus for Lundbeck LLC and UCB Pharma. SS has served on advisory boards for Lundbeck LLC, Acorda, and Upsher–Smith Laboratories and on a speaker's bureau for Cyberonics. He has received research grants from Cyberonics, Upsher–Smith Laboratories, and UCB Pharm, and is a board member for the American Board of Registration of Electroencephalographic and Evoked Potential Technologists and the American Board for Clinical Neurophysiology.
Authors' contributions
These cases, and others, were prepared, reviewed, and discussed by the authors at a Case-Report Colloquium July 27, 2013, in Chicago, USA. The meeting was funded by Lundbeck LLC (Deerfield, IL, USA), and the authors received honoraria for preparing their research and attending the meeting. The authors received no compensation to prepare this article. RS chaired the meeting and drafted the Introduction and Discussion sections. MSP provided and drafted Case 1, and SC provided and drafted Cases 2 and 3. The first draft of this article was prepared by RS, SC, and MSP. All authors reviewed the article for important intellectual content and confirm that they meet the current International Committee of Medical Journal Editors' four requirements for authorship. All authors read and approved the final manuscript.
Abstract
Introduction
In treating refractory epilepsy, many clinicians are interested in methods used to transition patients receiving clonazepam to clobazam to maintain or increase seizure control, improve tolerability of patients' overall drug therapy regimens, and to enhance quality of life for patients and their families. However, no published guidelines assist clinicians in successfully accomplishing this change safely.
Case presentations
The following three case reports provide insight into the transition from clonazepam to clobazam. First, an 8-year-old Caucasian boy with cryptogenic Lennox–Gastaut syndrome beginning at 3.5 years of age, who was experiencing multiple daily generalized tonic–clonic, absence, myoclonic, and tonic seizures at presentation. Second, a 25-year-old, left-handed, White Hispanic man with moderate mental retardation and medically refractory seizures that he began experiencing at 1 year of age, secondary to tuberous sclerosis. When first presented to an epilepsy center, he had been receiving levetiracetam, valproate, and clonazepam, but reported having ongoing and frequent seizures. Third, a 69-year-old Korean woman who had been healthy until she had a stroke in 2009 with subsequent right hemiparesis; as a result, she became less physically and socially active, and had her first convulsive seizure approximately 4 months after the stroke.
Conclusions
From these cases, we observe that a rough estimate of final clobazam dosage for each mg of clonazepam under substitution is likely to be at least 10-fold, probably closer to 15-fold for many patients, and as high as 20-fold for a few. Consideration and discussion of the pharmacokinetic, pharmacologic, and clinical properties of 1,4- and 1,5-benzodiazepine action provide a rationale on why and how these transitions were successful.