01.12.2014 | Research article | Ausgabe 1/2014 Open Access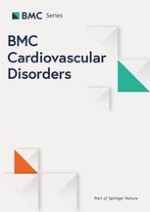 Clinical course and outcomes of type-2 diabetic patients after treatment intensification for insufficient glycaemic control - results of the 2 year prospective DiaRegis follow-up
Zeitschrift:
Autoren:

Peter Bramlage, Anselm K Gitt, Steffen Schneider, Evelin Deeg, Diethelm Tschöpe, the DiaRegis Study Group
Wichtige Hinweise
Electronic supplementary material
The online version of this article (doi:
10.​1186/​1471-2261-14-162
) contains supplementary material, which is available to authorized users.
Competing interests
Diethelm Tschöpe (DT), Peter Bramlage (PB), and Anselm K. Gitt (AKG) have received research support and honoraria for lectures from Bristol-Myers Squibb and AstraZeneca, the sponsors of the present registry. Steffen Schneider (StS) and Evelin Deeg (ED) have no competing interest to disclose.
Authors' contributions
PB, AKG, and DT were involved in the conception and design of the study. StS and ED were responsible for the analysis of data. PB drafted the manuscript, and all authors have revised the article for important intellectual content. All authors have approved the final version to be published.
Abstract
Background
In cases where antidiabetic monotherapy is unable to sufficiently control glucose levels in patients with type-2 diabetes, treatment needs to be intensified. Determining factors that may be predictors for the occurrence of comorbidities in these patients is essential for improving the efficacy of clinical diabetes care.
Methods
The DiaRegis prospective cohort study included 3,810 type-2 diabetics for whom the treating physician aimed to intensify and optimise antidiabetic treatment due to insufficient glucose control. Treatment intensification was defined as increasing the dose of the originally prescribed drug, and/or selecting an alternative drug, and/or prescribing an additional drug. The aims were to monitor the co-morbidity burden of type-2 diabetic patients over a follow-up of two years, and to identify multivariable adjusted predictors for the development of comorbidity and cardiovascular events.
Results
A total of 3,058 patients completed the 2 year follow-up. A substantial proportion of these patients had co-morbidities such as vascular disease, neuropathy, and heart failure at baseline. After treatment intensification, there was an increased use of DPP-4 inhibitors, insulin, and GLP-1 analogues, achieving reductions in HbA1c, fasting plasma glucose, and postprandial glucose. During the 2 year period 2.5% of patients (n = 75) died, 3.2% experienced non-fatal macrovascular events, 11.9% experienced microvascular events, and 4.3% suffered onset of heart failure. Predictors for combined macro-/microvascular complications/heart failure/death were found to be age (OR 1.36; 95% CI 1.10–1.68), prior vascular disease (1.73; 1.39–2.16), and history of heart failure (2.78; 2.10–3.68).
Conclusions
Determining the factors that contribute to co-morbidities during intensive glucose-lowering treatment is essential for improving the efficacy of diabetes care. Our results indicate that age, prior vascular disease, and heart failure constitute important predictors of poor cardiovascular outcomes in patients receiving such therapy.