06.08.2018 | Cornea | Ausgabe 11/2018 Open Access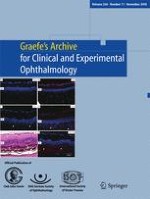 Clinical diversity in patients with Schnyder corneal dystrophy—a novel and known
UBIAD1

pathogenic variants
Autoren:

Anna Sarosiak, Monika Udziela, Aneta Ścieżyńska, Dominika Oziębło, Anna Wawrzynowska, Jacek P. Szaflik, Monika Ołdak
Abstract
Purpose
Schnyder corneal dystrophy (SCD) is a rare inherited disease that leads to gradual vision loss by the deposition of lipids in the corneal stroma. The aim of this study is to report a novel pathogenic variant in the
UBIAD1
gene and present clinical and molecular findings in Polish patients with SCD.
Methods
Individuals (
n
 = 37) originating from four Polish SCD families were subjected for a complete ophthalmological check-up and genetic testing. Corneal changes were visualized by slit-lamp examination, anterior segment optical coherent tomography (AS-OCT), and in vivo confocal microscopy (IVCM).
Results
In a proband with primarily mild SCD that progressed rapidly at the end of the fifth decade of life, a novel missense pathogenic variant in
UBIAD1
(p.Thr120Arg) was identified. The other studied SCD family represents the second family reported worldwide with the
UBIAD1
p.Asp112Asn variant. SCD in the remaining two families resulted from a frequently identified p.Asn102Ser pathogenic variant. All affected subjects presented a crystalline form of SCD. The severity of corneal changes was age-dependent, and their morphology and localization are described in detail.
Conclusion
The novel p.Thr120Arg is the fourth SCD-causing variant lying within the FARM motif of the UBIAD1 protein, which underlines a high importance of this motif for SCD pathogenesis. The current study provides independent evidence for the pathogenic potential of
UBIAD1
p.Asp112Asn and new information useful for clinicians.