11.12.2015 | Original Article | Ausgabe 2/2016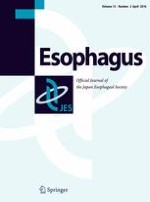 Clinical experience with four cases of jackhammer esophagus
Zeitschrift:
Autoren:

Rui Nakato, Noriaki Manabe, Naoshi Mitsuoka, Hironari Shiwaku, Hideo Matsumoto, Kanefumi Yamashita, Akiko Shiotani, Jiro Hata, Tetsuo Watanabe, Toshihiro Hirai, Ken Haruma
Abstract
Background
Although jackhammer esophagus (JE) requires proper treatment, many aspects of its clinical course remain unknown.
Method
The 4 cases were in patients diagnosed with JE among the 447 patients who underwent high-resolution manometry (HRM) at our hospital between January 2009 and October 2014, and we assessed the patients' background, their HRM, gastrointestinal endoscopy, and contrast esophagography findings, whether they had esophageal muscle thickening, and their clinical course.
Result
All 4 cases were treated for proton pump inhibitor–resistance nonerosive reflux disease, and all of them were ultimately diagnosed as JE. The test findings revealed an esophageal hiatal hernia and esophageal muscle thickening in every case, contrast esophagography showed abnormal contractions in 3/4 cases. During a mean follow-up period of 3.3 years, progression from nutcracker esophagus [NE; the Chicago Classification (2012 version)] to JE was observed during the course of 2 of the 4 patients. In 1 of the 4 patients, the symptoms improved in the absence of treatment. Among the 3 patients who received treatment, the symptoms of 2 patients were controlled within tolerable intensity by conservative treatment, but surgical treatment was selected in the other case. However, because the symptoms recurred after the operation, peroral endoscopic myotomy was performed in addition.
Conclusions
Because the pathology at the onset and clinical course of JE are not uniform, it is necessary to tailor treatment policy to each individual case and to consider altering treatment policy according to the patient's clinical course.