29.10.2018 | Maternal-Fetal Medicine | Ausgabe 1/2019 Open Access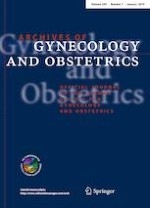 Clinical experience with misoprostol vaginal insert for induction of labor: a prospective clinical observational study
Zeitschrift:
Autoren:

Markus Schmidt, Maria Neophytou, Olaf Hars, Julia Freudenberg, Maritta Kühnert
Abstract
Purpose
To provide real-world evidence using misoprostol vaginal insert (MVI) for induction of labor in nulliparous and parous women at two German Level I Centers in a prospective observational study.
Methods
Between 1 August 2014 and 1 October 2015, eligible pregnant women (≥ 36 + 0 weeks of gestation) requiring labor induction were treated with MVI. Endpoints included time to and mode of delivery rates of tocolysis use, tachysystole, uterine hypertonus or uterine hyperstimulation syndrome and newborn outcomes.
Results
Of the 354 women enrolled, 68.9% (244/354) achieved vaginal delivery (nulliparous, 139/232 [59.9%]; parous 105/122 [86.1%];
p
 < 0.001). Median time from MVI administration to vaginal delivery was 14.0 h (nulliparous, 14.5 h; parous, 11.9 h;
p
 < 0.001). A total of 205/244 (84.0%) and 228/244 (93.4%) women achieved a vaginal delivery within 24 h and 30 h, respectively. The most common indications for cesarean delivery were pathologic cardiotocography (nulliparous, 41/232 [17.4%]; parous, 13/122 [10.7%];
p
 = 0.081) and arrested labor (dilation or descent; nulliparous, 45/232 [19.4%], parous, 3/122 [2.5%];
p
 ≤ 0.001). A total of 24.3% of women experienced uterine tachysystole and 9.6% experienced uterine tachysystole with fetal heart rate involvement, neither of which were significantly different for nulliparous and parous women. In total, 42/345 (12.2%) of the neonates had an arterial pH < 7.15 and 12/345 3.5% had a 5-min Apgar score ≤ 7.
Conclusion
When clinically indicated, MVI was efficient and safe for induction of labor in women with an unfavorable cervix. Women, however, should be counseled regarding the risk of uterine tachysystole prior to labor induction with MVI.