15.03.2016 | Observational Research | Ausgabe 7/2016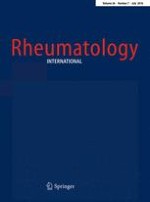 Clinical features and long-term outcomes of systemic lupus erythematosus: comparative data of childhood, adult and late-onset disease in a national register
Zeitschrift:
Autoren:

S. Sousa, M. J. Gonçalves, L. S. Inês, G. Eugénio, D. Jesus, S. Fernandes, G. Terroso, V. C. Romão, M. Cerqueira, A. Raposo, M. Couto, P. Nero, G. Sequeira, T. Nóvoa, J. A. Melo Gomes, J. Canas da Silva, L. Costa, C. Macieira, C. Silva, J. A. P. Silva, H. Canhão, M. J. Santos
Abstract
Systemic lupus erythematosus (SLE) affects predominantly women at reproductive age but may present at any age. Age at disease onset has a modulating effect on presentation and course of disease, but controversies persist regarding its impact on long-term outcome. Our aims were to characterize clinical features, co-morbidities and cumulative damage in childhood-onset, adult-onset and late-onset SLE. Patients with childhood-onset SLE fulfilling ACR 1997 criteria were identified in a nationwide register-Reuma.pt/SLE (
N
= 89) and compared with adult-onset and late-onset counterparts matched 1:1:1 for disease duration. 267 SLE patients with mean disease duration of 11.9 ± 9.3 years were analyzed. Skin (62 %), kidney (58 %), neurological (11 %) and hematologic involvement (76 %) were significantly more common in childhood-onset SLE and disease activity was higher in this subset than in adult- and late-onset disease (SLEDAI-2K 3.4 ± 3.8 vs. 2.2 ± 2.7 vs. 1.6 ± 2.8, respectively;
p
= 0.004). Also, more childhood-onset patients received cyclophosphamide (10 %) and mycophenolate mofetil (34 %). A greater proportion of women (96 %), prevalence of arthritis (89 %) and anti-SSA antibodies (34 %) were noted in the adult-onset group. There was a significant delay in the diagnosis of SLE in older ages. Co-morbidities such as hypertension, diabetes and thyroid disease were significantly more frequent in late-onset SLE, as well as the presence of irreversible damage evaluated by the SLICC/ACR damage index (20 vs. 26 vs. 40 %;
p
< 0.001). Greater organ involvement as well as the frequent need for immunosuppressants supports the concept of childhood-onset being a more severe disease. In contrast, disease onset is more indolent but co-morbidity burden and irreversible damage are greater in late-onset SLE, which may have implications for patients' management.