30.07.2020 | Case-Based Review | Ausgabe 12/2020 Open Access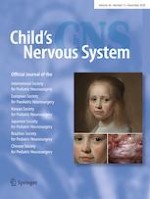 Clinical features, microbiology, and management of pediatric brainstem abscess
Zeitschrift:
Autoren:

Łukasz Antkowiak, Monika Putz, Marek Mandera
Wichtige Hinweise
Publisher's note
Springer Nature remains neutral with regard to jurisdictional claims in published maps and institutional affiliations.
Introduction
Brain abscess is defined as a collection of pus in the brain parenchyma. It appears typically in a devitalized area or affected by poor microcirculation [
1
]. Its incidence is estimated between 0.4 and 0.9 per 100,000 people per year [
2
]. Nathoo et al. report that 42% of brain abscesses appear in the pediatric population [
3
]. Their typical location includes frontal, temporal, parietal lobes, and cerebellum. Merely 1% of all brain abscesses are found within the brainstem [
4
,
5
]. To date, 23 childhood brainstem abscesses were described in the literature, and we report on the 24th case [
5
–
26
]. Typical triad of symptoms, including fever, headache, and the focal neurologic deficit, is being found in merely up to 28% of patients diagnosed with brain abscess [
27
]. Clinical presentation varies depending on abscess location in the brain. In up to 35% of patients, the primary source of infection cannot be determined; therefore, they are classified as cryptogenic [
4
,
28
,
29
]. Streptococci and Staphylococci are the most frequently isolated microorganisms, followed by anaerobes and Gram-negative enteric bacteria [
30
,
31
]. We report on a single pediatric patient diagnosed with a pontine abscess caused by
Streptococcus intermedius
of undetermined origin. Furthermore, we reviewed English-language literature to discuss the diagnosis and management of brainstem abscess in children.
Historical background
The first pediatric patient diagnosed with brainstem abscess was presented in 1974 by Danziger et al. [
8
]. To date, 23 cases of that entity were described in world literature, and we present the 24th pediatric patient. The mean age of occurrence in cerebral abscesses ranges between 4 and 7 years [
28
]. Considering brainstem abscesses, the mean age of occurrence during childhood was 6.4 years, ranging from 7 months to 16 years. Pontine location was the most common, found in eighteen patients (75%); ten children had a midbrain location (41.7%), whereas only four patients (16.7%) were diagnosed with an abscess in the medulla oblongata (Table
1
). Abscess involving more than one part of the brainstem was seen in 7 patients (29.2%); thereof, only one patient presented with entire brainstem neuroaxis affected (midbrain, pons, and medulla).
In the pediatric population, factors predisposing to brain abscess development were found in 56–86% of patients. Amidst underlying infectious risk factors are sinusitis, periorbital and orbital cellulitis, otitis media, meningitis, and mastoiditis [
4
,
27
,
32
,
33
]. No studies considering pediatric brainstem abscesses risk factors were conducted due to low incidence accounting for less than 1% of cerebral abscesses [
5
]. Nevertheless, our study shows that among infectious conditions, otogenic etiology was the most frequently appearing, followed by dental source and meningitis. Sinusitis was not identified in any patient. It can be easily explained since most of the sinusitis-related abscesses localize in the frontal lobes, which is also the most commonly affected cerebral location for abscesses [
27
]. Brainstem abscesses tend to spread through a hematogenous route from distant locations such as the lungs or heart, alternatively from primary otogenic infection [
32
]. Among underlying non-infectious primary predisposing conditions are congenital heart disease, immunodeficiency, and neurosurgical intervention [
33
]. Six brain abscesses (25%) were associated with underlying congenital heart disease, being also the most commonly identified etiology. The majority of abscesses located in the brainstem are defined as cryptogenic, with no infection source found on diagnostics. To date, nine out of 24 cases, accounting for 37.5%, were described as cryptogenic (Table
2
). Literature estimates that incidence at about 15–35% of brain abscesses [
34
,
35
].
Feature

Number (%)

Symptoms

Fever

13/24 (54.2)

Headache

12/24 (50.0)

Vomiting

6/24 (25.0)

Altered level of consciousness

10/24 (41.7)

Focal neurologic deficit

21/24 (87.5)

Classic triad (fever, headache, focal neurologic deficit)

5/24 (20.8)

Neurologic deficit

Hemiparesis

16/24 (66.7)

Cranial nerve palsy

19/24 (79.2)

Meningeal signs

0

Papilledema

2/24 (8.3)

Anisocoria

2/24 (8.3)

Seizures

1/24 (4.2)

Upward/downward gaze palsy

5/24 (20.8)

Ptosis

6/24 (25.0)

Ataxia

5/24 (20.8)

Strabismus

9/24 (37.5)

Dysphagia

4/24 (16.7)

Dysarthria

3/24 (12.5)

Aphasia

2/24 (8.3)

Pyramidal signs

11/24 (45.8)

Predisposing factors

Congenital heart disease

6/24 (25.0)

Dental infection

2/24 (8.3)

Otitis

3/24 (12.5)

Mastoiditis

0

Sinusitis

0

Pulmonary

2/24 (8.3)

Meningitis

1/24 (4.2)

Cryptogenic

9/24 (37.5)

Melioidosis

1/24 (4.2)
Clinical presentation
Classic brain abscess-related triad of symptoms including headache, fever, and focal neurologic deficit appears in merely 9–28% of pediatric patients [
27
]. According to the 24 described brainstem abscesses, that symptomatology occurred in 5 patients (20.8%). Typically, headache is the most common symptom and fever being the second accompanying brain abscess [
29
]. In our series, the headache was present in 12 (50%) and fever in 13 patients (54.2%). Neurological deficits depend on abscess location. Brainstem abscesses tend to reveal cranial nerve palsy and disturbances in afferent and efferent long tracts, causing typically hemiparesis [
36
]. Cranial nerve palsy was diagnosed in 19 patients (79.2%) and hemiparesis in 16 patients (66.7%). The most commonly affected nerves were facial (VII) and abducens (VI). However, all cranial nerve palsies were identified in pediatric brainstem abscess patients, except for the hypoglossal nerve (XII). Altered level of consciousness was found out in 10 patients (41.7%). All these patients presented with somnolence; accordingly, there was no incidence of coma at all. Typically, 30–50% of pediatric patients diagnosed with brain abscess present with seizures [
37
]. Notwithstanding, considering brainstem abscesses, an analysis revealed only one patient with a medical history of abscess-related seizures, accounting for just 4.2% of the entire group (Table
2
).
Diagnosis
Conclusions
Brainstem abscesses are rare findings, with merely 24 pediatric patients being described in the literature so far. Neurologic appearance is typical for pathologic mass occupying the brainstem, presenting with cranial nerve palsy and long tracts impairment, typically in the form of hemiparesis. The combination of MRI spectroscopy with DWI findings would increase the specificity and sensitivity for brain abscess up to 100%. Neurosurgical aspiration is safe and beneficial and should always be considered and performed immediately when conservative therapy is not successful, and clinical deterioration occurs. It is worth mentioning that there is no evidence supporting the dominance of one surgical technique in the treatment of pediatric brainstem abscesses. Prognosis in pediatric brainstem abscess is generally favorable. Most patients recover with minor neurologic deficits or improve completely.
Compliance with ethical standards
Conflict of interest
Authors state that they have no conflict of interest.
Open Access
This article is licensed under a Creative Commons Attribution 4.0 International License, which permits use, sharing, adaptation, distribution and reproduction in any medium or format, as long as you give appropriate credit to the original author(s) and the source, provide a link to the Creative Commons licence, and indicate if changes were made. The images or other third party material in this article are included in the article's Creative Commons licence, unless indicated otherwise in a credit line to the material. If material is not included in the article's Creative Commons licence and your intended use is not permitted by statutory regulation or exceeds the permitted use, you will need to obtain permission directly from the copyright holder. To view a copy of this licence, visit
http://​creativecommons.​org/​licenses/​by/​4.​0/​
.
Publisher's note
Springer Nature remains neutral with regard to jurisdictional claims in published maps and institutional affiliations.