01.12.2017 | Research article | Ausgabe 1/2017 Open Access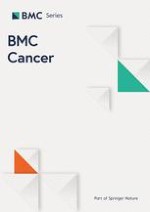 Clinical impact of postoperative loss in psoas major muscle and nutrition index after radical cystectomy for patients with urothelial carcinoma of the bladder
Zeitschrift:
Autoren:

Makito Miyake, Yosuke Morizawa, Shunta Hori, Nagaaki Marugami, Keiji Shimada, Daisuke Gotoh, Yoshihiro Tatsumi, Yasushi Nakai, Takeshi Inoue, Satoshi Anai, Kazumasa Torimoto, Katsuya Aoki, Nobumichi Tanaka, Kiyohide Fujimoto
Wichtige Hinweise
Electronic supplementary material
The online version of this article (doi:
10.​1186/​s12885-017-3231-7
) contains supplementary material, which is available to authorized users.
The original version of this article was revised: so the variables, Sex, Clinical T, Clinical N, Variant histology, Neoadjuvant chemotherapy, adjuvant chemotherapy, and Sarcopenia status, appear on the left hand side of table 3 in the PDF only.
Abbreviations
CONUT
The Controlling Nutritional Status
DSS
Disease-specific survival
EWGSOP
The European Working Group on Sarcopenia in Older People
MIBC
Muscle invasive bladder cancer
PNI
The prognostic nutritional index
UCB
Urothelial carcinoma of the bladder
VSR
Visceral-to-subcutaneous adipose tissue volume ratio
Background
Methods
Patient selection and data collection
Between January 2006 and October 2014, 105 UCB cases, without evidence of distant metastases, underwent curative RC. Sixteen cases were excluded because of insufficient radiographic and laboratory examination, leaving the data from 89 cases to be included in our retrospective analysis. The histopathological review was conducted by an experienced uropathologist (KS) to determine the T category (2010 AJCC TNM Staging system), tumor grade (2004 WHO classification) and presence of variant histology. Clinicopathological variables and laboratory data obtained at baseline and at all time points of measurement postoperatively were extracted from medical records for analysis of the time-course of change after surgery. Among the 89 cases, 37 (42%) and 14 (16%) received 2 or 3 cycles of platinum-based neoadjuvant chemotherapy and adjuvant chemotherapy, respectively.
Body composition index by CT scan
Unenhanced CT images, performed for diagnostic or follow-up purposes, were used as inputs into the Volume Analyzer SYNAPSE VINCENT image analysis system (Fujifilm Medical, Tokyo, Japan) to quantify the body composition index. Measured variables were normalized to height (m
2
) and were expressed in cm
3
/m
2
or cm
2
/m
2
for between-subject comparisons. The following measures were obtained for analysis: total psoas major muscle volume (cm
3
/m
2
); partial volume of the psoas major muscle at the level of the third and fourth lumbar vertebra (L3-L4; cm
3
/m
2
); area of the psoas major muscle at L3 (cm
2
/m
2
); total area of the abdominal skeletal muscle (cm
2
/m
2
); and the volume of abdominal adipose tissue, commonly referred to as the volume of subcutaneous and visceral fat (cm
3
/m
2
). The visceral-to-subcutaneous adipose tissue volume ratio (VSR) was calculated to determine the distribution of abdominal adipose tissue. Representative images used for analyses of abdominal muscle and fat are shown in Fig.
1a-c
.
×
Skeletal muscle index and definition of sarcopenia
Abdominal skeletal muscles include the psoas major, paraspinals (erector spinae and quadratus lumborum), and muscles of the abdominal wall (transversus abdominus, external and internal obliques, and rectus abdominus). The cross-sectional area of skeletal muscle at the level of L3 (cm
2
), which was identified using Hounsfield unit thresholds of −30 to +150, was normalized to height (m
2
) to yield the skeletal muscle index (SMI), expressed in cm
2
/m
2
(Fig.
1d
) [
16
]. Image analysis was performed by two independent investigators (MM and YM) who were blinded to other parameters and outcomes at the time of measurement. Martin's definition of the SMI [
21
] was adopted in our analysis as it is based on a large cohort and, therefore, would be applicable to various cancer patients with different BMI profiles, as follows: SMIs of <43 cm
2
/m
2
for males with a BMI <25 kg/m
2
; <53 cm
2
/m
2
for males with a BMI ≥25 kg/m
2
; and <41 cm
2
/m
2
for females.
Nutrition index
The baseline blood data were obtained the day before RC. The PNI was calculated using the following formula: 10 × serum albumin (g/dl) + 0.005 × total lymphocyte count (per mm
3
) [
18
]. The CONUT score was determined on the basis of the serum albumin, peripheral lymphocyte count and the T-cholesterol, as previously described (Table
1
) [
22
]. Both indices were reported as continuous variable for analysis. Cutoffs for the PNI and CONUT scores were set to the lower quartile and higher quartile values among the study group, respectively, based on the interquartile range (IQR).
Table 1
Scoring table for the CONUT score
Variables

Malnutrition degree

None

Mild

Moderate

Severe

Serum albumin (g/dL)

≥ 3.5

3.00–3.49

2.50–2.99

< 2.5

Score

0

2

4

6

Total lymphocyte count (/mm3)

≥ 1600

1200–1599

800–1199

< 800

Score

0

1

2

3

Total cholesterol (mg/dL)

≥ 180

140–179

100–139

< 100

Score

0

1

2

3
Follow-up and time-course of change in variables after RC
Postoperative follow-up was performed at the following time points, according to our institutional protocol: 1 month, every 3 months for the first 2 years, every 6 months for the following 3 years, and annually thereafter for patients without evidence of recurrent disease [
23
]. Oncological evaluation included physical examination, routine blood tests, urine cytology, and CT scan of the chest, abdomen and pelvis. Body composition variables and nutritional index were retrospectively determined and their postoperative time-course change, from baseline, was calculated by absolute value and relative value analysis, with baseline data set to 100%.
Statistical analysis
Data were expressed by bar charts or box plots, and evaluated using Student's
t
-test or the Mann–Whitney
U
-test as appropriate for the dataset. Disease-specific survival (DSS) and overall survival (OS) were estimated using the Kaplan–Meier method and compared using the log-rank test or log-rank test for trend analysis. Multivariate analysis was used to identify independent prognostic variables using a stepwise Cox proportional hazards regression model. Variables significantly affecting mortality (
P
< 0.05) in univariate analysis were included in the multivariate analysis. IBM SPSS Version 21 (SPSS Inc., Chicago, IL, USA) and PRISM software version 5.00 (San Diego, CA, USA) were used for statistical analyzes and plotting the data, respectively. A
P
value <0.05 was considered statistically significant.
Results
Discussion
The limitations of our study need to be acknowledged in the interpretation of our results. These include data from a single-institution, the retrospective nature of the study, including the potential selection bias, and analysis with relatively small sample size and short follow-up duration. As well, definitions of muscle loss and deterioration in nutritional status, although used in previous studies, remain controversial. Optimal cutoffs need to be validated in an independent multi-institutional sample to establish a novel risk assessment tool specific to RC.
Conclusions
To our knowledge this is the first study to have evaluated the clinical relevance of postoperative change in body composition, including skeletal muscle mass and nutritional status, as a predictor of clinical outcomes and survival after RC. Further research should identify appropriate rehabilitation protocols and nutritional interventions to maintain skeletal muscle mass and nutritional status, which could counteract deterioration in physical status and improve outcomes after RC.
Acknowledgement
Authors would like to thank patients for their important contribution to this study. This work was supported by JSPS KAKENHI Grant Numbers JP16K20159 from Grant-in-Aid for Young Scientists (MM) and Fiscal Years 2015-2016 Grant-in-Aid for Collaborative Research Projects from Nara Medical University (KF and MM).
Funding
This work was supported by JSPS KAKENHI Grant Numbers JP16K20159 from Grant-in-Aid for Young Scientists (M.M.) and Fiscal Years 2015–2016 Grant-in-Aid for Collaborative Research Projects from Nara Medical University (K.F. and M.M.).
Availability of data and materials
The authors are not able to share the data and materials used in this study, because that is not permitted by the duty of confidentiality in the strict institutional rule.
Authors' contributions
MM, NM, NT, and KF contributed to conception and design, and acquisition of patients' data, and analysis and interpretation of data. YM, SH, YN, TI, SA, KT, and KA contributed to acquisition of data and interpretation of data. DG and KF contributed to analysis and interpretation of data. KS and YT contributed to conception and design and review of pathologic diagnosis of prostatectomy tissues. All authors have been involved in drafting the manuscript and revising it critically for important intellectual content and approved the version to be published. All authors have participated sufficiently in this work to take public responsibility for appropriate portions of the content.
Consent for publication
Not applicable. This manuscript contains no individual person's data in any form.
Competing interests
The authors declare that they have no competing interests.
Ethics approval and consent to participate
The methods and procedures for this study were approved by the Ethics Committee of the Nara Medical University (reference number: NMU-1100), which provided all participants with informed consent by an opt-out methodology. This study waived the requirement for written human subject consent due to the retrospective nature of the analysis.
Publisher's Note
Springer Nature remains neutral with regard to jurisdictional claims in published maps and institutional affiliations.
Open Access
This article is distributed under the terms of the Creative Commons Attribution 4.0 International License (
http://​creativecommons.​org/​licenses/​by/​4.​0/​
), which permits unrestricted use, distribution, and reproduction in any medium, provided you give appropriate credit to the original author(s) and the source, provide a link to the Creative Commons license, and indicate if changes were made. The Creative Commons Public Domain Dedication waiver (
http://​creativecommons.​org/​publicdomain/​zero/​1.​0/​
) applies to the data made available in this article, unless otherwise stated.