01.12.2018 | Research | Ausgabe 1/2018 Open Access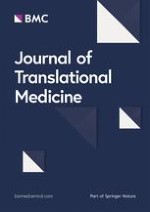 Clinical implementation of rapid
CYP2C19

genotyping to guide antiplatelet therapy after percutaneous coronary intervention
Zeitschrift:
Autoren:

Larisa H. Cavallari, Francesco Franchi, Fabiana Rollini, Latonya Been, Andrea Rivas, Malhar Agarwal, D. Max Smith, Kimberly Newsom, Yan Gong, Amanda R. Elsey, Petr Starostik, Julie A. Johnson, Dominick J. Angiolillo
Wichtige Hinweise
Larisa H. Cavallari and Francesco Franchi contributed equally to this work
Abstract
Background
The
CYP2C19
nonfunctional genotype reduces clopidogrel effectiveness after percutaneous coronary intervention (PCI). Following clinical implementation of
CYP2C19
genotyping at University Florida (UF) Health Shands Hospital in 2012, where genotype results are available approximately 3 days after PCI, testing was expanded to UF Health Jacksonville in 2016 utilizing a rapid genotyping approach. We describe metrics with this latter implementation.
Methods
Patients at UF Health Jacksonville undergoing left heart catheterization with intent to undergo PCI were targeted for genotyping using the Spartan RX™ system. Testing metrics and provider acceptance of testing and response to genotype results were examined, as was antiplatelet therapy over the 6 months following genotyping.
Results
In the first year, 931 patients, including 392/505 (78%) total patients undergoing PCI, were genotyped. The median genotype test turnaround time was 96 min. Genotype results were available for 388 (99%) PCI patients prior to discharge. Of 336 genotyped PCI patients alive at discharge and not enrolled in an antiplatelet therapy trial, 1/6 (17%) poor metabolizers (PMs, with two nonfunctional alleles), 38/93 (41%) intermediate metabolizers (IMs, with one nonfunctional allele), and 119/237 (50%) patients without a nonfunctional allele were prescribed clopidogrel (p = 0.110). Clopidogrel use was higher among non-ACS versus ACS patients (78.6% vs. 42.2%, p < 0.001). Six months later, among patients with follow-up data, clopidogrel was prescribed in 0/4 (0%) PMs, 33/65 (51%) IMs, and 115/182 (63%) patients without a nonfunctional allele (p = 0.008 across groups; p = 0.020 for PMs versus those without a nonfunctional allele).
Conclusion
These data demonstrate that rapid genotyping is clinically feasible at a high volume cardiac catheterization facility and allows informed chronic antiplatelet prescribing, with lower clopidogrel use in PMs at 6 months.