13.02.2019 | Original Research | Ausgabe 3/2019 Open Access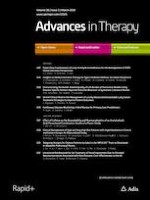 Clinical Management of High and Very High Risk Patients with Hyperlipidaemia in Central and Eastern Europe: An Observational Study
Zeitschrift:
Autoren:

Ivo Petrov, Andreea Dumitrescu, Michaela Snejdrlova, Barak Zafrir, Beata Wożakowska-Kapłon, Lubomira Fabryova, Hrvoje Pintarić, Ian Bridges, Reneta Petkova
Wichtige Hinweise
Electronic supplementary material
Enhanced digital features
Abstract
Introduction
A retrospective/prospective observational study was conducted to explore the current management of hyperlipidaemia in high-risk (HR) and very high risk (VHR) patients in central/eastern Europe and Israel.
Methods
The study enrolled adult patients who were receiving lipid-lowering therapy and attending a specialist (cardiologist/diabetologist/lipidologist) or internist for a routine visit at 57 sites (including academic/specialist/internal medicine centres) across Bulgaria, Croatia, Czech Republic, Israel, Poland, Romania and Slovakia. Data were collected from medical records, for the 12 months before enrolment, with/without ≤ 6 months' additional prospective follow-up.
Results
A total of 1244 patients, mean (SD) age 63.3 (11.3) years were included (307 with familial hypercholesterolaemia (FH), 943 secondary prevention patients). Almost all patients (98.1%) were receiving statins (76.7% monotherapy/21.4% combined therapy), with 53.1% receiving high-intensity statin therapy: 127 patients (10.2%) had adverse events attributed to statin intolerance. Mean (SD) low density lipoprotein cholesterol (LDL-C) levels were 3.3 (1.7) mmol/L at the first, and 2.7 (1.3) mmol/L at the last, visit of the retrospective phase of observation, with little change during the prospective phase. Less than one-quarter (23.8%; 95% CI 17.29–31.45%) of HR patients and less than half (42.0%; 39.05–44.98%) of VHR patients achieved their risk-based LDL-C targets of < 2.5 and < 1.8 mmol/L, respectively. Less than 15% of FH patients reached these targets (10.9% (5.6–18.7%) of HR and 12.1% (8.0–17.4%) of VHR patients). The revised 2016 ESC/EAS target for HR patients (2.6 mmol/L) was met by 28.5% (21.44–36.38%) of HR patients overall. Almost one-half of patients (42.1%) experienced one or more cardiovascular events during observation.
Conclusion
Our findings confirm that, despite widespread statin use, a substantial proportion of patients treated for hyperlipidaemia in central/eastern Europe and Israel, particularly those with FH, do not reach recommended LDL-C targets, thus remaining at risk of cardiovascular events.
Funding
Amgen (Europe) GmbH.