01.12.2016 | Research article | Ausgabe 1/2016 Open Access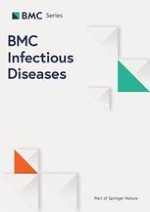 Clinical manifestations and cerebrospinal fluid status in ocular syphilis in HIV-Negative patients
Zeitschrift:
Autoren:

Ting Dai, Xinjun Wu, Shaona Zhou, Qianqiu Wang, Daning Li
Abstract
Background
Syphilis with ocular involvement has reemerged as a critical health problem. The aim of the present study was to explore the clinical manifestations and cerebrospinal fluid (CSF) status in ocular syphilis in human immunodeficiency virus (HIV)-negative patients.
Methods
The clinical records of patients with ocular syphilis presenting to the Shanghai Xuhui Central Hospital in the period from January 2011 to December 2012 were retrospectively reviewed.
Results
The median age of 25 HIV-negative patients with ocular syphilis was 53 years, 18 patients (72.0 %) were males and 7 (28.0 %) were females. None of them self-identified themselves as men who had sex with men (MSM). The ocular lesions included: uveitis (13 cases), optic neuropathy (6 cases), retinal vasculitis (5 cases), retinal detachment (3 cases), and neuroretinitis (4 cases). Serum toluidine red unheated serum test (TRUST) titer ranged from 1 to 512, with a median of 64. Overall, 18 (72.0 %) of the 25 patients had abnormal CSF results, 15 (60.0 %) CSF samples had elevated white blood cell counts, 13 (52.0 %) had elevated protein levels, and 9 (36.0 %) had reactive CSF Venereal Disease Research Laboratory (VDRL) test, respectively. Mann–Whitney U tests showed higher serum TRUST titer (>32) correlated with the abnormal CSF results.
Conclusions
The demographic characteristics of patients with ocular syphilis in this study were different from previous reports. The study showed a high CSF abnormal rate in HIV-negative patients. The recommendation for CSF examination from all patients with ocular syphilis, including HIV-negative cases, is strongly supported by the present data.