01.12.2018 | Research article | Ausgabe 1/2018 Open Access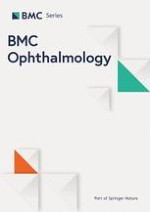 Clinical outcome observation of the embolization of orbital vascular malformation with medical glue under direct intra-operative view
Zeitschrift:
Autoren:

Tingting Lin, Limin Zhu, Yanjin He
Background
Orbital vascular malformation is a mass lesion made up of blood vessels. According to the origin of the blood vessel, the lesion can be categorized as venous, arterial and arterial-venous malformation. The malformed blood vessels often encircle the normal tissue in orbit and have ill-defined borders making surgical treatment of orbital vascular malformations difficult. Because of the risk of hemorrhage during operation, the malformed blood vessel may hard to be removed completely. Accordingly, there are many post-surgical complications and a high incidence of reoccurrence. In this article we summarized the method of embolization with medical glue during the surgical treatment of orbital vascular malformation as well as the resection of lesions, and the prognosis of patients.
Methods
Ethics approval and patient consent
This study was a retrospective, observational and cross-sectional case series and was approved by the Human Research Ethics Committee of the Tianjin Medical University Eye Hospital [No. 2017KY(L)-23] and complied with the Declaration of Helsinki. Patients with the orbital vascular malformation presented to TMUEH during Mar, 2008 to Sep, 2017 were enrolled. There were 31 cases (31 eyes) diagnosed as orbital vascular malformation and performed with the medical glue embolization under direct intra-operative view according to medical records. Written informed consents were obtained from the patients.
Materials
The medical glue used is the EC ear-cephalic glue manufactured by Guangzhou Bai Yun medical glue company, of 1 ml standard (Type: GX812-EC).
Data collection
The clinical characteristics, surgical records, pathological reports and follow-up records of 31 patients were reviewed retrospectively. The vascular malformation involved the right eye in 19 cases and the left eye in 12 cases. Patients included 9 males and 22 femalesd. The age of onset was from 2 to 67 years old and median age of 33 years.
Results
Discussion
The surgical resection of orbital vascular malformations includes a risk of hemorrhage, many complications, and even loss of vision in severe cases. Once a malformed blood vessels rupture during surgery, it is difficult to separate lesions from normal tissue, and may result in the incomplete resection of the lesion. Unfilled malformed blood vessels are even harder to remove completely. Hence, recurrence after surgery is common. Controlling for hypotension, tilting the patients head up, hemostatsis and preparations for blood transfusion are important measures needed to prevent and treat any intraoperative bleeding previously. In this article we reported on the application of medical glue embolization under direct surgical view, which rapidly molded and solidified in the malformed vessels with clearly defined borders, making it easier to resect the malformation completely and reduced blood loss.
In our preliminary experimentation we found that medical glue immediately solidified once it came in contact with blood, thus obstructing continuous injection. We then inferred that different concentration of medical glue would have a different rate of solidification, so we attempted to dilute the glue with sterile WFI before injection. Unfortunately, the diluted medical glue became cloudy. We then stopped diluting the glue and used original glue for injection as part of clinical methodological improvement. We found several matters should be attended to during the application of glue surgical resection. ① The syringe used to draw/inject medical glue needs to be dry. Changing the needle after drawing glue can avoid the blockage caused by glue residue in the needle if it contact with blood when injected. ② The velocity of injection should be properly controlled. Slowly injection would cause the glue to solidify and block the syringe needle. Conversely, quickly injection might risk of injecting into the cavernous sinus. ③ The volume of injected medical glue is relevant to the range and size of the lesion. It's better to appropriately inject the medical glue instead of it being overused. ④ When applying glue, the change in color and rigidity of the malformed blood vessels should be monitored closely in order to avoid glue leaking from the vessels. ⑤ Using an approach with multiple injection sites better guarantees procedure efficacy and safety.
In light of the above analysis we believe that it is feasible to use intra-vascular injection of medical glue for the embolization of orbital vascular malformation. However, since there is a different growth pattern of deformed blood vessels (isolated or diffuse), a different growth range, and a different blood flow velocity within the lumen, they all affect the dispersion rate of medical glue in blood vessels. Hence, injecting the same volume of glue may lead to a different range of solidification. At present, the quantitative relationship between the amount of medical glue injected and the volume of the lesion has not been established. At the same time, considering the adverse reactions of medical glue, we recommend that re-injecting according to the scope of solidified vascular malformation and the lesion size is not an absolute indication. Our key finding and clinical recommendations were, first when applying medical glue to superficially located vascular malformations, attention should be paid to avoid leaving glue residues; all glue should be removed to minimize complications. Next, when applying medical glue into a deeply located orbital vascular malformation, be sure to protect the surrounding normal structure and to ensure "intratumoral injection." Additionally, when applying medical glue to the vascular mass closely located near the optic nerve or eyeball wall, attention should be paid to the amount of glue used. It can be used for a small amount and multiple times, to avoid its impact on eye blood supply. Finally, lesions rich in blood flow and affecting a large area, it is recommended to first ligate the supplying blood vessels, manage the mass separately, and then inject glue for embolization.
Conclusion
Orbital and eyelid vascular malformation is a very complicated illness, which is difficult to manage, so an indication for surgical resection should be critically evaluated. The application of medical glue can reduce the risk of intra- and post-operative hemorrhage, as well as may provide a 'bloodless' surgical field for surgeons. After molding and solidification using medical glue, malformed blood vessels are easy to remove. Such application of glue facilitates the complete resection of ill-defined lesion and reduces post-surgical recurrence. Its application is not simply a local injection and thus requires extensive experience in orbital surgery and techniques, as well as adequate preparation for the timely management of sudden onset complications.
Acknowledgements
We acknowledge the support received from our colleagues of Tianjin Medical University Eye Hospital.
Funding
This work was supported by a grant from Natural Science Foundation for Young Scholar of Tianjin, China. Grant number [16JCQNJC12300] This funding had no role in the study design, data collection and analysis, decision to publish, or preparation of the manuscript.
Availability of data and materials
The datasets used during the current study available from the corresponding author on reasonable request.
Authors' information
All authors are working at Tianjin Medical University Eye Hospital, School of Optometry and Ophthalmology, TMU, Tianjin Medical University Eye Institute.
Ethics approval and consent to participate
This study was approved by the Human Research Ethics Committee of the Tianjin Medical University Eye Hospital [No. 2017KY(L)-23] and complied with the Declaration of Helsinki. Written informed consents were obtained from the patients.
Consent for publication
All authors approved the manuscript for publication.
Competing interests
The authors declare that they have no competing interests.
Publisher's Note
Springer Nature remains neutral with regard to jurisdictional claims in published maps and institutional affiliations.
Open Access
This article is distributed under the terms of the Creative Commons Attribution 4.0 International License (
http://​creativecommons.​org/​licenses/​by/​4.​0/​
), which permits unrestricted use, distribution, and reproduction in any medium, provided you give appropriate credit to the original author(s) and the source, provide a link to the Creative Commons license, and indicate if changes were made. The Creative Commons Public Domain Dedication waiver (
http://​creativecommons.​org/​publicdomain/​zero/​1.​0/​
) applies to the data made available in this article, unless otherwise stated.