Erschienen in: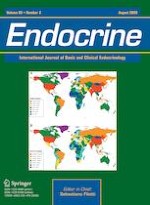 Open Access 05.05.2020 | Review
Clinical outcomes and characteristics of P30L mutations in congenital adrenal hyperplasia due to 21-hydroxylase deficiency
Erschienen in: Endocrine | Ausgabe 2/2020
Abstract
Despite numerous studies in the field of congenital adrenal hyperplasia (CAH) due to 21-hydroxylase deficiency, some clinical variability of the presentation and discrepancies in the genotype/phenotype correlation are still unexplained. Some, but not all, discordant phenotypes caused by mutations with known enzyme activity have been explained by in silico structural changes in the 21-hydroxylase protein. The incidence of P30L mutation varies in different populations and is most frequently found in several Central and Southeast European countries as well as Mexico. Patients carrying P30L mutation present predominantly as non-classical CAH; however, simple virilizing forms are found in up to 50% of patients. Taking into consideration the residual 21-hydroxulase activity present with P30L mutation this is unexpected. Different mechanisms for increased androgenization in patients carrying P30L mutation have been proposed including influence of different residues, accompanying promotor allele variability or mutations, and individual androgene sensitivity. Early diagnosis of patients who would present with SV is important in order to improve outcome. Outcome studies of CAH have confirmed the uniqueness of this mutation such as difficulties in phenotype classification, different fertility, growth, and psychologic issues in comparison with other genotypes. Additional studies of P30L mutation are warranted.
Publisher's note
Springer Nature remains neutral with regard to jurisdictional claims in published maps and institutional affiliations.
Introduction
The aim of this review is to present clinical, including long-term, outcomes, and molecular findings associated with the P30L mutation.
Molecular structure of P30L mutation and functional analysis
Prevalence of P30L mutation
The frequency of different
CYP21A2
mutations are variable in different populations and ethnicities [
7
,
16
,
45
,
61
‐
63
]. The most common mutations are deletion or large gene conversion, I2 splice, V281L, and I172N [
7
,
14
,
16
,
37
,
45
]. In populations with consanguinity the variability is lower compared with admixed populations [
64
,
65
]. Different reports show that the P30L is not among the most common mutations. Its frequency is between 0 and 46% in different populations (Table
1
) [
14
,
16
,
18
,
19
,
23
,
37
,
45
,
55
,
62
,
63
,
66
‐
78
]. Interestingly, P30L mutation occur more frequently in Central and Southeast Europe, including Balkans, and Mexico [
39
,
62
,
63
,
68
,
74
,
79
,
80
].
Table 1
Prevalence of P30L and V281L mutations in different populations and corresponding phenotypes
Country

Number of alleles

P30L

Form of CAH

V281L

Form of CAH

Reference

Argentina

908

0.9%

NC, SV

26.2%

NC

Brazil

960

0.6%

SV, NC

26.6%

NC

Chile

146

0%

10.5%

SV

China

460

0.2%

NC

0.2%

NC

Czech Republic

174

6.5%

SV, NC

5.1%

NC

Croatia

186

5.9%

SV, NC

0%

Denmark

136

2.2%

NC

4.4%

NC

Francea

322

3.6%

NC

55.9%

NC

Finland

156

0%

2.6%

NC

Germany

310

2.6%

SV, NC

2.9%

NC

Greece

222

11.3%

SV, NC

41.1%

NC

Dracopoulou-Vabouli et al. [

71

]

Italy

146

2.7%

NC

11%

NC

Indiab

124

46%

SV

ND

Japanc,d

30

1.5 %

SV, NC

ND

Macedonia

122

19.7%

SV, NC

2.1%

NC

Mexico

94

8.5%

SV, NC

8.5%

NC

Ordonez Sanchez et al. [

74

]

Netherlands

396

0.3%

NC

2.2%

NC

Stikkelbroeck et al. [

14

]

Romania

66

19.7%

SV

0%

Grigorescu-Sido et al. [

75

]

Serbia

122

13%

SV, NC

4.6%

NC, SV

Spain

58

2.6%

NC

15.8%

NC

Sweden

400

1.6%

NC

5.7%

NC

USA

3005

2.6 %

SV, NC

23.9%

NC
Clinical presentation and genotype/phenotype correlation
Diagnosis
The diagnosis of classical forms of 21OHD is based upon the clinical picture, blood electrolyte analysis, 17OHP levels, and androgens including testosterone, dehydroepiandrosterone sulfate (DHEAS), and androstenedione. Most patients have a basal morning 17OHP values above 30 nmol/L. However, some patients with suspected NC CAH may have lower basal 17OHP levels and a level between 6 and 30 nmol/L could warrant an ACTH-stimulation test [
20
,
41
,
82
,
94
]. Levels above 30 nmol/L on ACTH-stimulation test, which is the golden standard for diagnosis of 21OHD, are considered diagnostic [
22
,
28
,
41
,
95
]. Severe
CYP21A2
mutations have higher 17OHP levels both basal and post ACTH-stimulation [
23
]. Measurement of progesterone, 17-hydroxypregnenolone, 11-deoxycortisol, DHEAS, deoxycorticosterone, and androstenedione may be warranted in order to distinguish other forms of disturbed steroidogenesis. There are limited data on the biochemical parameters in patients with P30L mutation but these show similar 17OHP and testosterone levels as those with other mild mutations and cannot predict the severity of the clinical presentation [
53
,
96
,
97
]. Due to late diagnosis of NC and even SV forms, special attention should be given to children who grow faster than expected during early years of life, and follow them thoroughly for signs of early puberty. Bone maturation in these patients is of utmost importance for the diagnosis and follow-up [
98
]. Differences in the time of presentation and speed of progression in patients with P30L mutation remain to be elucidated. It should be noted that the different national neonatal screening programs are developed to diagnose classic CAH, and many NC newborns will not be detected if additional molecular testing is not applied as a second tier [
28
,
99
]. It might be advisable to preform strict follow-up even in newborns with no symptoms where P30L mutation is detected.
Therapy and follow-up
The goals of therapy in SV and NC forms, including patients with P30L mutation, are to substitute cortisol (especially in SV), reverse hyperandrogenism to ensure normal growth and timely puberty, preserve fertility as well as to avoid the long-term complications [
100
‐
102
]. Hydrocortisone is the drug of choice in newborn and children with confirmed SV form [
103
]. However, appropriate glucocorticoid regimen (hydrocortisone, prednisolone, dexamethasone, or combinations) with or without mineralocorticoid therapy in adults is still uncertain [
104
‐
106
]. Some SV patients may benefit from adding mineralocorticoids based on the studies showing higher plasma renin activity in SV patients including patients carrying P30L mutation. It is due to accumulation of some steroid precursors which can cause, especially in poorly controlled patients, aldosterone mediated transactivation of the human mineralocorticoid receptor. [
107
‐
109
]. Adding mineralocorticoids in SV patients may provide decreased renin activity and may enable decrease of glucocorticoid dose. Mineralocorticoids have occasionally been used in NC CAH as well [
110
‐
113
]. Therapy should be carefully tapered according to the growth pattern and hormonal results. There are trials to simplify frequent blood sampling with adrenal specific androgens measurements in saliva, hair, or urine samples [
114
‐
117
]. Therapy changes with aging of the patients, fertility treatment is necessary in some females with CAH, both classic and nonclassic and men who develop TARTs, but also treatment of late complications of the disease and supraphysiological glucocorticoid supplementation [
3
,
81
,
82
,
111
].
Therapy in patients with P30L mutations depends on the clinical picture, and consist mostly of improving symptoms, not biochemical findings. Achieving normal final height should be among the main goals. Transition from pediatric to adult care is of utmost importance since many patients could be lost from follow-up during this period [
100
,
118
‐
120
].
Somatic outcomes
Mental outcomes
Engberg et al. analyzed psychiatric diagnoses in 335 women with CAH compared with 33,500 matched controls [
181
]. They found that psychiatric diagnoses in general and substance abuse were more common in women with CAH. Interestingly, patients with P30L mutation had much more psychotic disorders and personality disorders in the age group >18 years compared with the carriers of other mutations [
181
]. Psychotic disorders were increased in both female and male patients with P30L mutation, especially in those born before the neonatal screening [
182
], with personality disorders being more frequent in women with the P30L mutation [
181
]. In both genders with 21OHD, alcohol misuse was increased and so were also suicidal attempts in males. However, none in the P30L group has been diagnosed with alcohol misuse or attempted suicide [
181
,
182
]. Similar findings were found in 226 individuals with CAH (almost all females) were psychiatric disorders and suicide attempts were more common than in the general population [
166
]. Although the genotypes were not described in the latter study it can be suspected that very few had P30L mutations. Whether late diagnosis, glucocorticoid therapy, and/or the androgen exposure contributes to the increased prevalence of psychiatric disorders in CAH, especially in women, remains to be elucidated [
182
,
183
]. Since the level of hyperandrogenism has generally been associated with the alcohol and other substances abuse [
184
], and patients with P30L are more hyperandrogenic compared with the carriers of other mild mutations, it would be useful with larger studies to investigate addictions and psychiatric issues in this group [
183
].
Quality of life
Having in mind the complexity of CAH and its complications, it has to be expected that patients with CAH will have affected quality of life (QoL) [
11
,
185
]. Life-long therapy, frequent controls, additional issues as the patient grows, necessary interventions as well as under- or overtreatment and poor metabolic control leading to frequent sick-leave in CAH may result in lower social integration, education, self-confidence, employment, and lower QoL [
186
,
187
]. Late diagnosis is associated with depression and decreased self-control. Many women with CAH are not satisfied with their sexual life and have later sexual debut or complete lack of sexual activity [
141
,
145
]. Males with CAH had impaired sexual well-being in one study [
188
], but not in another study [
186
]. The overall psychosexual aspects of life were affected in these patients with later sexual debut, fewer pregnancies and children, and an increased incidence of homosexuality in women [
189
,
190
]. In a QoL study from Norway including 72 adult participants with CAH impaired general health perception, vitality and working ability were found [
191
]. QoL was correlated to the severity of the mutations [
5
]. A recent systematic review reported increased psychological and psychiatric issues, impaired QoL, together with reduced satisfaction with reproductive health and sexual function in male with CAH [
192
]. QoL in patients with SV and NC forms can be similar to the controls as shown in patients diagnosed after the introduction of neonatal screening, probably due to the timely and more sophisticated treatment [
154
,
186
].
Conclusion
Patients with P30L mutations have not been studied extensively. The ethnic variability is wide and P30L mutation affects mostly people from Central Europe, Balkan countries, and Mexico. P30L confers 20–60% 21-hydroxylase activity. However, P30L mutation induces a more severe clinical virilization than the typical NC CAH and clinical presentation is a continuum between NC and SV phenotype. Studies of the structure of the mutated enzyme do not completely explain the discrepancy between the preserved enzyme activity and the phenotype. Therefore, the reclassification of this mutation as mild should be reconsidered. Long-term outcome data in patients with P30L are limited, but some issues such as psychiatric disorders may be more frequent in this group compared with the other mild mutations. Further studies of the genotype/phenotype variations in P30L careers, long-term outcomes, and treatment options are warranted.
Acknowledgements
We thank Jorddy N Cruz for the help in designing the structural model of the CYP21A2 enzyme. Open access funding provided by Karolinska Institute.
Funding
This study was funded by Magnus Bergvall Foundation (Grant Number 2017–02138, 2018–02566, and 2019-03149).
Compliance with ethical standards
Conflict of interest
The authors declare that they have no conflict of interest.
Open Access
This article is licensed under a Creative Commons Attribution 4.0 International License, which permits use, sharing, adaptation, distribution and reproduction in any medium or format, as long as you give appropriate credit to the original author(s) and the source, provide a link to the Creative Commons license, and indicate if changes were made. The images or other third party material in this article are included in the article's Creative Commons license, unless indicated otherwise in a credit line to the material. If material is not included in the article's Creative Commons license and your intended use is not permitted by statutory regulation or exceeds the permitted use, you will need to obtain permission directly from the copyright holder. To view a copy of this license, visit
http://​creativecommons.​org/​licenses/​by/​4.​0/​
.
Publisher's note
Springer Nature remains neutral with regard to jurisdictional claims in published maps and institutional affiliations.