27.09.2016 | Original Article | Ausgabe 1/2017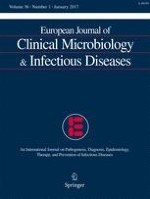 Clinical outcomes and treatment approach for community-associated methicillin-resistant
Staphylococcus aureus

(CA-MRSA) infections in Israel
Autoren:

E. Berla-Kerzhner, A. Biber, M. Parizade, D. Taran, G. Rahav, G. Regev-Yochay, D. Glikman
Wichtige Hinweise
Electronic supplementary material
The online version of this article (doi:
10.​1007/​s10096-016-2789-3
) contains supplementary material, which is available to authorized users.
The article was written as part of the requirements of the Hebrew University School of Medicine, Jerusalem, Israel for an MD degree of Eynat Berla-Kerzhner.
G. Regev-Yochay and D. Glikman contributed equally to this work.
Abstract
Community-associated methicillin-resistant
Staphylococcus aureus
(CA-MRSA) infections are increasingly documented worldwide. We recently identified two major CA-MRSA clones in Israel: USA300 and t991. Here, we assessed clinical outcomes by CA-MRSA clones and the physicians' treatment approach to CA-MRSA infections. All community-onset, clinical MRSA isolates detected during 2011–2013 by Maccabi Healthcare Services were collected and characterized phenotypically and genotypically; data were collected retrospectively from electronic medical records. Of 309 patients with MRSA infections, 64 were identified as CA-MRSA (21 %). Of the CA-MRSA infections, 72 % had skin and soft tissue infections (SSTIs), 38 % were Panton–Valentine leukocidin (PVL)+, the major clone being USA300 (
n
 = 13, 54 %). Of PVL− isolates (
n
 = 40, 62 %), t991 was the major clone. Age was the only predictor for PVL+ CA-MRSA infection (
p
 < 0.001). Patients with PVL+ CA-MRSA had higher incidence of SSTI recurrences (1.061 vs. 0.647 events per patient/per year,
p
 < 0.0001) and were more likely to have the SSTI drained (64 % vs. 21 %,
p
 = 0.003) when compared to PVL− CA-MRSA. USA300 was more common among adults, while t991 was more common among children (
p
 = 0.002). The physician's referral to culture results and susceptibility were the only predictors of appropriate antibiotic therapy (
p
 < 0.001). However, only a minority of physicians referred to culture results, regardless of subspecialties. PVL+ CA-MRSA isolates caused significantly more recurrences of SSTIs and increased the need for drainage compared with PVL− isolates. Physicians' awareness of CA-MRSA as a cause of SSTIs in the community was suboptimal. Culturing of pus-producing SSTIs is crucial for providing adequate antimicrobials and elucidating MRSA epidemiology.