01.12.2017 | Research article | Ausgabe 1/2017 Open Access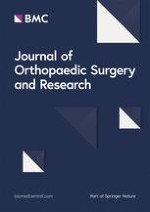 Clinical outcomes of arthroscopic surgery for external snapping hip
Zeitschrift:
Autoren:

Amrit Shrestha, Peng Wu, Heng'an Ge, Biao Cheng
Abstract
Background
Studies have reported on the arthroscopic technique for release of external snapping hip syndrome. However, no study with large sample size has been reported for arthroscopic surgery.
Methods
Patients with 229 bilateral and 19 unilateral external snapping hips were treated from January 2012 to June 2013. After locating the contracture position, arthroscopic surgery was performed accordingly. Preoperative and postoperative angles were compared.
Results
Comparing range of motion, all patients obtained higher adduction and flexion angles. At postoperative follow-up of 24 months, the adduction angle was improved from −14.4 ± 5.14 to 35.7 ± 4.21 for type I, from −31.2 ± 5.22 to 31.7 ± 2.84 for type II, from −49.0 ± 3.47 to 21.6 ± 3.43 for type III, and from −64.5 ± 4.65 to 18.3 ± 3.10 for type IV (
P
 < 0.001). Similarly, the flexion angle was also significantly improved for all the four types (
P
 < 0.001). Excellent ratio and satisfaction rate were good in types I and II. All the clinical features were cured after arthroscopic surgery.
Conclusions
Arthroscopic surgery could be an effective procedure for external snapping hip, due to less operating time, small scar, fast postoperative recovery, and complete contracture release.