01.12.2013 | Original Article | Ausgabe 12/2013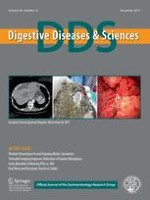 Clinical Outcomes of Hepatitis C Treated with Pegylated Interferon and Ribavirin via Telemedicine Consultation in Northern California
Zeitschrift:
Autoren:

Lorenzo Rossaro, Cara Torruellas, Sandeep Dhaliwal, Jacqueline Botros, Guiselle Clark, Chin-Shang Li, Mia M. Minoletti
Abstract
Background
Patients in rural communities are less likely to receive treatment for their hepatitis C (HCV) infection. Telemedicine (TM) consultation can close the gap of access to specialists in remote and under-served areas.
Aim
To determine treatment response and side-effect profiles among HCV patients treated with pegylated interferon and ribavirin via TM consultation in different rural locations in Northern California compared with patients treated in traditional hepatology office visits.
Methods
We performed a retrospective analysis of 80 HCV patients treated at different TM sites (TM,
n
= 40) and at the University of California Davis Hepatology Clinic (HC,
n
= 40) between 2006 and 2010, comparing baseline characteristics and clinical outcomes.
Results
At baseline, response to therapy was similar for patients in both groups. Sustained virological response (SVR) was similar in both groups (TM: 55 vs. HC: 43 %;
p
= 0.36), and a higher proportion of patients treated via telemedicine completed treatment (TM: 78 vs. HC: 53 %;
p
= 0.03). TM patients had many more visits per week of therapy (TM: 0.61 vs. HC: 0.07;
p
< 0.001). Neutropenia, GI side effects, fatigue, depression, weight loss, insomnia, and skin rash were similar in both groups. For HC patients incidence of anemia was significantly higher (53 %) than for the TM group (25 %;
p
= 0.02).
Conclusions
The two groups had equivalent SVR. For the TM group therapy completion was superior and incidence of anemia was lower. This initial study suggests that, as a group, patients with HCV, can be safely and effectively treated via telemedicine.