01.09.2009 | Review | Ausgabe 9/2009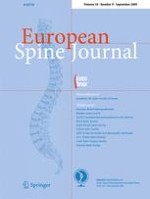 Clinical outcomes of sacroplasty in sacral insufficiency fractures: a review of the literature
Zeitschrift:
Autoren:

Edward Bayley, Shreya Srinivas, Bronek M. Boszczyk
Abstract
Sacral insufficiency fractures (SIFs) are an increasingly recognised cause of back pain in the elderly. They can cause significant pain and disability in the elderly population and until recently, the mainstay of treatment has been analgesia and physical therapy. We undertook a review of the literature looking at the outcome with various operative techniques currently used in the treatment of SIF. A thorough literature search was undertaken to identify the various techniques used in the surgical treatment of SIF and their outcome. Keywords used included sacroplasty, SIF and cement augmentation. We analysed the number of cases presented, surgical technique, follow-up and clinical outcome. The techniques described include sacroplasty (injection of cement into fractured sacrum) and augmented iliosacral (trans-sacral) screws. Fifteen papers were published in the English literature between 2002 and 2008. No Level I, II or III evidence was available. In total, 108 patients were included. Computerised tomography combined with fluoroscopy was the most common image guidance technique used (80 patients). Where documented, there was significant improvement in mean visual analogue score (VAS) from 8.9 to 2.6 (
P
< 0.001, paired Student's
t
test). In conclusion, cement augmentation techniques such as sacroplasty with or without iliosacral screw fixation can produce significant improvements in VAS scores. They appear to be a suitable alternative to analgesia and rehabilitation. However, more robust evidence is required to validate these promising early results with cement augmentation techniques.