06.06.2016 | Original Communication | Ausgabe 8/2016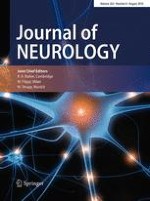 Clinical prediction of large vessel occlusion in anterior circulation stroke: mission impossible?
Zeitschrift:
Autoren:

Mirjam R. Heldner, Kety Hsieh, Anne Broeg-Morvay, Pasquale Mordasini, Monika Bühlmann, Simon Jung, Marcel Arnold, Heinrich P. Mattle, Jan Gralla, Urs Fischer
Wichtige Hinweise
Electronic supplementary material
The online version of this article (doi:
10.​1007/​s00415-016-8180-6
) contains supplementary material, which is available to authorized users.
Abstract
Simple clinical scores to predict large vessel occlusion (LVO) in acute ischemic stroke would be helpful to triage patients in the prehospital phase. We assessed the ability of various combinations of National Institutes of Health Stroke Scale (NIHSS) subitems and published stroke scales (i.e., RACE scale, 3I-SS, sNIHSS-8, sNIHSS-5, sNIHSS-1, mNIHSS, a-NIHSS items profiles A–E, CPSS1, CPSS2, and CPSSS) to predict LVO on CT or MR arteriography in 1085 consecutive patients (39.4 % women, mean age 67.7 years) with anterior circulation strokes within 6 h of symptom onset. 657 patients (61 %) had an occlusion of the internal carotid artery or the M1/M2 segment of the middle cerebral artery. Best cut-off value of the total NIHSS score to predict LVO was 7 (PPV 84.2 %, sensitivity 81.0 %, specificity 76.6 %, NPV 72.4 %, ACC 79.3 %). Receiver operating characteristic curves of various combinations of NIHSS subitems and published scores were equally or less predictive to show LVO than the total NIHSS score. At intersection of sensitivity and specificity curves in all scores, at least 1/5 of patients with LVO were missed. Best odds ratios for LVO among NIHSS subitems were best gaze (9.6, 95 %-CI 6.765–13.632), visual fields (7.0, 95 %-CI 3.981–12.370), motor arms (7.6, 95 %-CI 5.589–10.204), and aphasia/neglect (7.1, 95 %-CI 5.352–9.492). There is a significant correlation between clinical scores based on the NIHSS score and LVO on arteriography. However, if clinically relevant thresholds are applied to the scores, a sizable number of LVOs are missed. Therefore, clinical scores cannot replace vessel imaging.