13.06.2016 | Brief Report | Ausgabe 2/2016 Open Access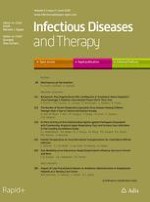 Clinical Presentation, Diagnosis, and Bacterial Epidemiology of Peritoneal Tuberculosis in Two University Hospitals in France
Zeitschrift:
Autoren:

Zoé Cavalli, Florence Ader, Florent Valour, Julien Saison, Loïc Boussel, Oana Dumitrescu, Thomas Perpoint, Christian Chidiac, Thierry May, Tristan Ferry, Lyon TB Study group
Wichtige Hinweise
On behalf of the Lyon TB Study group.
Abstract
Introduction
Diagnosis of peritoneal tuberculosis (pTB) is difficult, even in developed countries, where data are lacking. The aim of the present study was to describe the clinical presentation, diagnosis, and bacterial epidemiology of pTB in France over a 10-year period.
Methods
A retrospective study was conducted on pTB in two university hospitals in France, between January 2004 and December 2014.
Results
Among the 34 patients, 76.5% were migrants from areas of endemic tuberculosis (TB), mainly Africa. The main presentation (85.3%) was a checkup of ascites or suspicion of peritoneal carcinomatosis. On abdominal computed tomography, ascites was found in 90.6% and peritoneal thickening in 75%. Surgery was required for diagnosis in 58.8% of patients. Six of the patients who did not undergo surgery had ultrasound-guided peritoneal biopsy. Bacteriology was positive for ascites in only 58.1% of cases, for peritoneal biopsy in 73.3%, while granuloma was found in 95.5%. TB polymerase chain reaction (PCR) was positive in 25% of peritoneal biopsy.
Mycobacterium bovis
was isolated in 23.1% of cases and
Mycobacterium tuberculosis
in 76.9%. Isolates were fully susceptible (except
M.
bovis
naturally resistant to pyrazinamide). Many (38%) belonged to the lineage T (genetic analysis by spoligotyping). Cure rate was high (76.5%), after a 6–9 months of anti-tuberculous therapy.
Conclusion
In developed countries, early diagnosis of pTB is still a challenge. Ultrasound-guided peritoneal biopsy may facilitate diagnosis. TB PCR can be useful on peritoneal biopsy. The lineage T was the most prevalent lineage, but more data are required to directly incriminate this lineage in the pathophysiology of pTB.