12.09.2019 | Original Article | Ausgabe 4/2019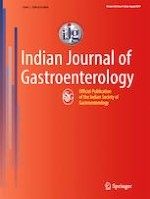 Clinical profile and outcome of primary sclerosing cholangitis: A single-centre experience from western India
Zeitschrift:
Autoren:

Pratik Tibdewal, Pratin Bhatt, Abhinav Jain, Deepak Gupta, Shobna Bhatia, Akash Shukla
Wichtige Hinweise
Publisher's note
Springer Nature remains neutral with regard to jurisdictional claims in published maps and institutional affiliations.
Abstract
Introduction
Primary sclerosing cholangitis (PSC), a chronic progressive cholestatic liver disease of unknown cause, is uncommon in India. The aim of this study was to define the profile and outcomes of patients with PSC in a tertiary centre from western India.
Methods
A retrospective study of the prospectively maintained liver clinic database was searched for cases of PSC between January 2008 and December 2017 with minimum 6 months follow up. All cases were reviewed for clinical profile, inflammatory bowel disease (IBD) co-morbidity and major endpoints like death, cholangiocarcinoma and liver transplantation (LT).
Results
We identified 28 (18 men) patients with PSC (19, 67% large-duct and 9, 33% small-duct) with a median age of 31.5 years (range 7–63 years) with median duration of follow up of 24 months (6–125 months). Six (21.4%) had autoimmune hepatitis (AIH-PSC) overlap. Inflammatory bowel disease was seen in 12 (43%) cases, all were ulcerative colitis (UC). During follow up, seven patients (25%) developed dominant stricture or recurrent cholangitis, 11 (39%) had portal hypertension, 2 (7%) developed cholangiocarcinoma and 5 (17.8%) progressed to hepatic decompensation on follow up. Ten (35%) patients died, 5 from liver-related complications, 2 from cholangiocarcinoma, 1 each from brain hemorrhage and systemic sepsis and 1 due to unknown cause; 3 underwent liver transplantation. Revised Mayo score of patients who survived was lower than those who died (1.03 vs. 1.86,
p
value 0.03).
Conclusion
PSC commonly presents in young age and rapidly progresses to decompensation. Prevalence of IBD in PSC is lower and the proportion of small-duct PSC is higher than that observed in western populations.