29.06.2020 | Original Article | Ausgabe 12/2020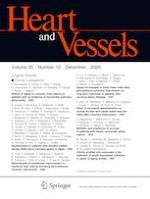 Clinical profiles and outcomes in the treatment of acute myocardial infarction in Japan of aging society
Zeitschrift:
Autoren:

Makoto Suzuki, Kensaku Nishihira, Misa Takegami, Satoshi Honda, Sunao Kojima, Morimasa Takayama, Tetsuya Sumiyoshi, Hisao Ogawa, Kazuo Kimura, Satoshi Yasuda, on behalf of the JAMIR Investigators
Wichtige Hinweise
Electronic supplementary material
The members of the JAMIR Investigators group mentioned in Acknowledgements section.
Publisher's Note
Springer Nature remains neutral with regard to jurisdictional claims in published maps and institutional affiliations.
Abstract
To address many uncertainties in the acute care of patients with acute myocardial infarction (AMI) in proportion to increasing age, we underwent the nationwide current survey consisted of 11,676 patients with AMI based on the database of the Japanese Acute Myocardial Infarction Registry between January 2011 and December 2013 to figure out how difference of clinical profiles and outcomes between coronary revascularization and conservative treatments for AMI. Clinical profiles in a total of 763 patients with AMI with conservative treatments (7% of all) were characterized as more elderly women (median age, 71 yeas vs. 68 years,
p
 < 0.0001, male, 71% vs. 76%,
p
 = 0.0008), high Killip class (Killip class I, 61% vs. 75%,
p
 < 0.0001), and non-ST-segment elevation AMI (37% vs. 27%,
p
 < 0.0001) as compared with 10,913 with coronary revascularization, with a consequence of more than twofold higher in-hospital mortality (12% vs. 5%,
p
 < 0.0001). When compared with conservative treatments, highly effective of coronary revascularization to decrease in-hospital mortality was found in patients with ST-segment elevation AMI (6% vs. 16%,
p
 < 0.0001), while these advantages were not evident in those with non-ST-segment elevation AMI (4% vs. 6%,
p
 = 0.1107), especially with high Killip class, regardless of whether or not propensity score matching of clinical characteristics. A risk-adapted allocation of invasive management therefore may have the potential of benefiting patients with non-ST-segment elevation AMI, in particular elders.