14.12.2017 | ASNC/SNMMI POSITION STATEMENT | Ausgabe 1/2018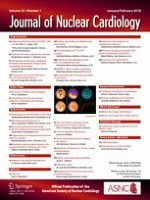 Clinical Quantification of Myocardial Blood Flow Using PET: Joint Position Paper of the SNMMI Cardiovascular Council and the ASNC
Zeitschrift:
Autoren:

Venkatesh L. Murthy, Timothy M. Bateman, Rob S. Beanlands, Daniel S. Berman, Salvador Borges-Neto, Panithaya Chareonthaitawee, Manuel D. Cerqueira, Robert A. deKemp, E. Gordon DePuey, Vasken Dilsizian, Sharmila Dorbala, Edward P. Ficaro, Ernest V. Garcia, Henry Gewirtz, Gary V. Heller, Howard C. Lewin, Saurabh Malhotra, April Mann, Terrence D. Ruddy, Thomas H. Schindler, Ronald G. Schwartz, Piotr J. Slomka, Prem Soman, Marcelo F. Di Carli, Andrew Einstein, Raymond Russell, James R. Corbett
Wichtige Hinweise
Received Aug. 28, 2017; revision accepted Sept. 11, 2017.
For correspondence or reprints contact: Venkatesh L. Murthy, University of Michigan, 1338 Cardiovascular Center, SPC 5873, Ann Arbor, MI 48109.
E-mail: vlmurthy@med.umich.edu
This article is being jointly published in the
Journal of Nuclear Cardiology
and
The Journal of Nuclear Medicine
.
Without Abstract