01.11.2010 | Ausgabe 6/2010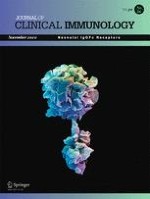 Clinical Ramifications of the MHC Family Fc Receptor FcRn
Zeitschrift:
Autoren:

Derry C. Roopenian, Victor Z. Sun
Abstract
Introduction
Knowledge that antibodies of the IgG isotype have remarkably extended persistence in circulation and are able to pass through cell barriers has substantial implications. While it is well established that so-called neonatal Fc receptor, FcRn, acts throughout life to confer these unusual properties, its ramifications on clinical medicine and therapeutic uses are not broadly appreciated.
Scope
Here we discuss basic principles and gaps in understanding of FcRn, including its management of IgG antibodies and along with albumin, its impact on use and design of antibody-based therapeutics, and its genetics.