01.12.2019 | Review | Ausgabe 1/2019 Open Access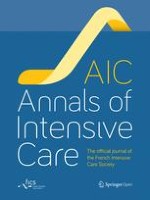 Clinical review: peripheral muscular ultrasound in the ICU
Zeitschrift:
Autoren:

Paolo Formenti, Michele Umbrello, Silvia Coppola, Sara Froio, Davide Chiumello
Wichtige Hinweise
Publisher's Note
Springer Nature remains neutral with regard to jurisdictional claims in published maps and institutional affiliations.
Abbreviations
NMBAs
neuromuscular blockade agents
ICUAW
intensive care unit-acquired weakness
MRI
magnetic resonance imaging
DEXA
dual-energy X-ray absorptiometry
MRCs
Medical Research Council scale
RASS
Richmond agitation sedation scale
CAM
confusion assessment method
Background
Many patients admitted to the intensive care unit (ICU) develop a syndrome of neuromuscular dysfunction characterized by generalized muscle weakness that often contributes to difficult liberation from mechanical ventilation [
1
]. The principal causes of such weakness include neuropathic and myopathic disorders, as well as mixed disorders that have been lumped under the term "ICU-acquired weakness" (ICUAW) [
2
]. Since this syndrome occurs in the absence of pre-existing neuromuscular disease and affects all age groups [
3
–
6
], ICUAW is believed to reflect illnesses or treatments occurring in the ICU [
7
]. Recent studies demonstrated that a reduced excitability of the nerve and muscle cell membranes might contribute to the development of ICUAW during the acute stages of the polyneuropathy and myopathy encountered in critically ill patients [
8
–
11
]. This association has been linked with severe systemic responses to infection, as well as with mortality rates of 30–50% and transient disability in 30% of the cases [
12
]. Persisting disabilities often linger in patients with apparently complete functional recovery [
13
]. Moreover, ICUAW is now recognized to be a very important factor in "difficult-to-wean" patients in the ICU setting, associated with prolonged ICU/hospital stays [
14
,
15
]. Regarding the development of ICUAW, many factors play a key role, even if the pathogenesis of this syndrome is far from being completely understood [
2
,
16
]. Among these, individual patient features, such as age and comorbidities [
17
,
18
], sustained bed rest [
19
], pharmacological strategies, nutritional and metabolic support, all seem to be related with the reduction in muscle mass [
20
]. In order to improve nutritional and rehabilitation strategies, different diagnostic methods to diagnose ICUAW at an early stage have been investigated [
21
–
23
]. The currently available tools for the assessment of skeletal muscle mass with the highest level of accuracy and reproducibility are computerized tomography (CT) and magnetic resonance imaging (MRI); however, high-precision imaging is difficult to perform in the ICU setting. On the contrary, high-resolution ultrasound machines that are now routinely available represent valid and reliable tools for providing qualitative and quantitative details about muscle disease [
24
–
28
]. Few systematic reviews have been focused on this topic [
29
,
30
], and the authors did not perform formal meta-analyses due to issues with the design of the studies included, the heterogeneity of patient cohorts, and the different aspects of peripheral skeletal muscle architecture measured. Since then, few papers have focused on the validation of methodologies [
28
,
31
] and others investigated different muscle zones and ultrasound characteristics [
32
–
35
]. Ultrasound is able to derive structural variables, and, once it is performed repeatedly, it is able to identify those patients at highest risk of prolonged complications, which result from excess muscle catabolism. Thus, the aim of this narrative review is to describe the current literature about the use of muscular ultrasound for detecting muscle weakness and its impact on critically ill patients' treatments and prognosis. Moreover, we propose a flowchart with the aim of using muscular ultrasound together with clinical examination for an early diagnosis of pathology and etiology.
Ultrasound assessment of muscular features
As a noninvasive, painless technique, ultrasound may be used to identify skeletal muscle pathology. It offers several advantages compared with other tests used in the evaluation of muscle features and allows for a quick screen of large muscle areas at the bedside. In fact, healthy muscle tissue has a distinctive appearance on ultrasound that readily distinguishes it from other tissues (Fig.
1
) [
36
,
37
]. To perform an adequate ultrasound examination of skeletal muscle, several technical components must be considered. First, since muscle and subcutaneous fat can easily be compressed, a minimal amount of pressure should be applied on the tissue under an ultrasound probe sufficiently covered with gel, in order to optimize imaging conditions. Additionally, obesity and subcutaneous edema can significantly alter the appearance and quality of the ultrasound images of skeletal muscle. Therefore, the examiner must be aware of the depth of the imaged tissue, the potential effects of attenuation of the ultrasound signal, and the limitations of the ultrasound system in use, taking into account the gain, the focal points and the compression, as all of these factors may significantly alter the overall appearance of myofascial structures [
24
]. The probe orientation and muscle position can also radically alter the image appearance, given that the relationship between the probe angle and the underlying pennation angle of the myofascial strips critically modulates the ultrasonographic brightness of the muscle [
38
]. The most important factors that contribute to the heterogeneity in muscle detection are the transducer selection frequency and the field of view. Using a linear probe, the frequencies for the clinical evaluation of neuromuscular measures range from approximately 2–20 MHz. Radiologic imaging is increasingly used as a diagnostic tool to describe the patterns and extent of muscle involvement, thanks to modern techniques that enable determinations of muscle atrophy and changes in connective tissue. Such methodologies usually grade the severity of the disease process with greater accuracy than clinical scores. CT has made possible the evaluation and selective involvement of muscle groups, establishing disease progression and identifying asymptomatic involvement [
39
]. CT scan is usually more accessible than MRI. Moreover, it allows for quick and accurate evaluation of muscle changes, especially fatty degeneration, by assessing muscle density and morphology. Such examinations are not operator dependent and allow for the evaluation of the deepest muscles. However, CT scanning involves high doses of ionizing radiation. MRI provides excellent soft tissue characterization, so it perfectly evaluates shape, volume and morphological features of normal skeletal muscle allowing for determination of fatty degeneration in late-stage muscle dystrophy, aside from recognition of decreases in muscle volume [
40
]. Unfortunately, MRI incurs high cost and lacks portability. Cumbersome study logistics precludes its routine clinical use in the ICU setting. Nerve and muscle biopsies are invasive and expensive, hold potential for complications, and require specialized expertise for obtaining and interpreting samples. Although the classical diagnostic tool to detect ICUAW is the combination of nerve conduction and electromyographic studies (EMG), there are many technical challenges to completing both in the ICU [
41
]. Commonly encountered physiologic changes in the ICU, such as anasarca and hypothermia, introduce artifacts by altering amplitude and velocity recordings for nerve conduction studies [
42
]. Finally, the utility of manual muscle strength assessment using standardized scales such as that of the Medical Research Council proves useful in patients who are both sufficiently awake and cooperative [
43
]. A recent study investigated the accuracy of muscular and nerve ultrasound for the diagnosis of ICUAW compared with this benchmark test [
44
]. That study showed the MRC to have very low diagnostic accuracy for all muscle and nerve parameters. Considering the limitations of traditional methods, together with recent advances in muscular ultrasound, makes ultrasonography a promising tool for the study of muscle structure, facilitating early diagnosis and intervention.
×
Parameters of muscle architecture
Conclusions
Skeletal muscle wasting in the critically ill has significant functional implications for patients who survive, and the development of prophylactic or therapeutic interventions has been troubled by our lack of understanding of the pathophysiology driving the process of muscle wasting. Several studies have demonstrated that muscle ultrasound is able to reliably detect pathological changes, especially once it is performed repeatedly. Muscle ultrasound might help to identify those patients at highest risk of prolonged complications, which result from excess muscle catabolism. Despite this intriguing potential, the interpretation of the available studies is difficult because of significant methodological defects, inadequate sample sizes, and lack of standardization of the ultrasound methodology. Nevertheless, further studies are certainly needed to describe the detailed time course of ultrasonic muscle changes and the progression of spontaneous activity, particularly in relation to the functional clinical outcome.
Acknowledgements
We are grateful to Prof. John J. Marini for his precious help in editing English revision.
Ethics approval and consent to participate
Not applicable.
Consent for publication
Not applicable.
Competing interests
The authors declare that they have no competing interests.
Open Access
This article is distributed under the terms of the Creative Commons Attribution 4.0 International License (
http://​creativecommons.​org/​licenses/​by/​4.​0/​
), which permits unrestricted use, distribution, and reproduction in any medium, provided you give appropriate credit to the original author(s) and the source, provide a link to the Creative Commons license, and indicate if changes were made.
Publisher's Note
Springer Nature remains neutral with regard to jurisdictional claims in published maps and institutional affiliations.