01.09.2020 | Original Article | Ausgabe 2/2021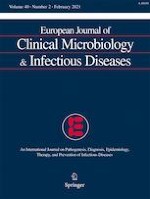 Clinical risk factors related to treatment failure in
Mycobacterium abscessus

lung disease
Autoren:

Keiji Fujiwara, Koji Furuuchi, Akio Aono, Fumiko Uesugi, Tatsuya Shirai, Keitaro Nakamoto, Takafumi Shimada, Fumi Mochizuki, Yoshiaki Tanaka, Hiroaki Iijima, Takashi Yoshiyama, Yuji Shiraishi, Atsuyuki Kurashima, Ken Ohta, Satoshi Mitarai, Kozo Morimoto
Wichtige Hinweise
Electronic supplementary material
Publisher's note
Springer Nature remains neutral with regard to jurisdictional claims in published maps and institutional affiliations.
Abstract
The clinical importance of
Mycobacterium abscessus
subsp.
abscessus
(
M. abscessus
) lung disease has been increasing, but few studies have assessed the clinical characteristics associated with the treatment outcome. We retrospectively analyzed 75 consecutive patients with
M. abscessus
lung disease diagnosed at a tertiary hospital from January 2004 to April 2018. Among 52 patients with sufficient clinical data, 19 patients (42.2%) achieved treatment success. Compared with 26 (57.8%) patients in the treatment failure group, body mass index (BMI) (19.8 vs 17.5 kg/m
2
,
P
 = 0.022), previous nontuberculous mycobacterial (NTM) lung disease (26.3% vs 61.5%,
P
 = 0.034), the presence of cavitary lesions (31.6% vs 69.2%,
P
 = 0.017), and the bronchiectasis score (3.0 vs 5.0,
P
 = 0.003) were significantly different in the treatment success group. Multivariate analysis showed that age (adjusted hazard ratio (aHR), 0.94; 95% confidence interval (CI), 0.90 to 0.99;
P
 = 0.010), the presence of cavitary lesions (aHR, 0.34; 95% CI, 0.12 to 0.94;
P
 = 0.039), and previous NTM lung disease (aHR, 0.28; 95% CI, 0.09 to 0.86;
P
 = 0.026) were negatively associated with treatment success. This is the first study to show that previous NTM lung disease might be a clinically important factor related to unfavorable treatment outcomes in
M. abscessus
lung disease patients. To increase our understanding the characteristics of
M. abscessus
lung disease, this factor should be independently analyzed in future research.