12.05.2020 | Ausgabe 4/2020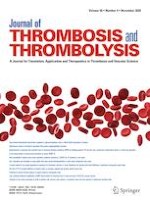 Clinical significance of healed plaque detected by optical coherence tomography: a 2-year follow-up study
Zeitschrift:
Autoren:

Osamu Kurihara, Michele Russo, Hyung Oh Kim, Makoto Araki, Hiroki Shinohara, Hang Lee, Masamichi Takano, Kyoichi Mizuno, Ik-Kyung Jang
Wichtige Hinweise
Electronic supplementary material
Publisher's Note
Springer Nature remains neutral with regard to jurisdictional claims in published maps and institutional affiliations.
Abstract
Recent studies have shown that healed plaque at the culprit lesion detected by optical coherence tomography (OCT) is a sign of pan-vascular vulnerability and advanced atherosclerosis. However, the clinical significance of healed plaque is unknown. A total of 265 patients who had OCT imaging of a culprit vessel and 2-year clinical follow-up data were included. Patients were stratified based on the presence or absence of a layered plaque phenotype, defined as layers of different optical density by OCT at either culprit or non-culprit lesions. The association between layered plaque and major adverse cardiac events (MACE), defined as cardiac death, acute coronary syndromes (ACS), or revascularization, was studied. Among 265 patients, 96 (36.2%) had the layered plaque phenotype. Layered plaque was more frequently observed in stable angina pectoris patients than in ACS patients (57.8%vs. 25.1%, p < 0.001). The average clinical follow-up period was 672 ± 172 days. Cumulative MACE was significantly higher in patients with layered plaque (p = 0.041), which was primarily driven by the high revascularization rate at 2 years (p = 0.002). Multivariate regression analysis showed that presence of layered plaque and low-density lipoprotein cholesterol levels were independently associated with an increased risk of revascularization (p = 0.026, p = 0.008, respectively). Patients with healed plaque in the culprit vessel had a higher incidence of revascularization, as compared to those without healed plaque, at 2 years.