01.12.2016 | Research | Ausgabe 1/2016 Open Access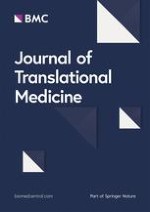 Clinical significance of T-bet, GATA-3, and Bcl-6 transcription factor expression in bladder carcinoma
Zeitschrift:
Autoren:

Islem Ben Bahria-Sediki, Nadhir Yousfi, Catherine Paul, Mohamed Chebil, Mohamed Cherif, Rachida Zermani, Amel Ben Ammar El Gaaied, Ali Bettaieb
Abstract
Background
The aim of this study was to investigate the clinical significance of three immune cell-related transcription factors, T-bet, GATA-3 and Bcl-6 in bladder cancer in Tunisian patients.
Methods
Expression of T-bet, GATA-3 and Bcl-6 genes was assessed using RT-qPCR in 65 bladder cancers from patients: 32 being diagnosed as low- and medium-grade, 31 as high-grade, 25 as muscle invasive stage and 39 as non-muscle invasive stage. Gene expression was statistically correlated according to the grade, the stage, tobacco consumption, the BCG response and disease severity.
Results
T-bet levels in patients with high-grade bladder cancer were significantly elevated compared to patients with low- or medium-grade bladder cancer (p = 0.005). In invasive carcinoma (T2–T4), the T-bet levels were significantly higher than in superficial non-invasive bladder tumors (Tis, Ta, and T1) (p = 0.02). However, T-bet is predictive of the response to BCG. Its expression is high in good responders to BCG (p = 0.02). In contrast, the expression of GATA-3 and Bcl-6 in non-invasive carcinoma (p = 0.008 and p = 0.0003) and in patients with low- and medium-grade cancers (p = 0.001 and p < 0.0001) is significantly higher than in invasive bladder tumors and in patients with high-grade bladder carcinoma, respectively. In addition, heavy smokers, whose tumors express low levels of GATA-3 and Bcl-6, are poor responders to BCG (p = 0.01 and p = 0.03). Finally, better patient survival correlated with GATA-3 (p = 0.04) and Bcl-6 (p = 0.04) but not T-bet expression.
Conclusions
Our results suggest that T-bet expression in bladder tumors could be a positive prognostic indicator of BCG therapy, even if high levels are found in high-grade and stage of the disease. However, GATA-3 and Bcl-6 expression could be considered as predictive factors for good patient survival.