01.12.2015 | Research article | Ausgabe 1/2015 Open Access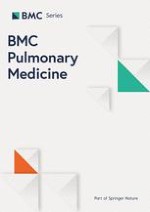 Clinical spectrum of intrathoracic Castleman disease: a retrospective analysis of 48 cases in a single Chinese hospital
Zeitschrift:
Autoren:

Jin mei Luo, Shan Li, Hui Huang, Jian Cao, Kai Xu, Ya lan Bi, Rui e Feng, Cheng Huang, Ying zhi Qin, Zuo jun Xu, Yi Xiao
Wichtige Hinweise
Jin mei Luo and Shan Li contributed equally to this work.
Competing interests
The authors declare that they have no competing interest.
Authors' contributions
HH served as the guarantor of the paper, and takes responsibility for the integrity of the work as a whole. JML and SL conceived the study, and participated in its design and coordination. ZJX and YX contributed to the design of the study. HH and JML performed the statistical analysis and drafted the manuscript. JC, XK, YLB,REF, CH and YZQ participated in data collection. All authors read and approved the final manuscript.
Abstract
Background
Thorax is the common place to develop Castleman disease (CD), but there is no systemic clinical analysis for intrathoracic CD.
Methods
We conducted a retrospective analysis of 48 intrathoracic CD patients with definite pathological diagnosis who were hospitalized between 1992 and 2012 in a Chinese tertiary referral hospital.
Results
The study included 16 cases with unicentric CD (UCD) and 32 cases with multicentric CD (MCD). UCD were younger than MCD (30.5y vs 41.6ys, P < 0.05). MCD were more symptomatic (50% vs 96.9%, P < 0.001) and sicker than UCD, including more fever, hepatomegaly and/or splenomegaly and hypoalbuminemia. All of UCD showed solitary mass in various sites and two of them were complicated by small pleural effusion. In the MCD group, their chest CT showed obvious lymphadenopathy in the hilum and/or mediastinum (100%), diffuse parenchymal lung shadows (43.75%), pleural effusion (40.6%), mass in the mediastinum (6.25%) or hilum (3.12%) and bronchiolitis obliterans (BO) (3.12%). Besides LIP-like images, multiple nodules of different size and sites, patchy, ground-glass opacities and consolidation were showed in their chest CT. Surgery were arranged for all UCD for diagnosis and treatment and all were alive. In MCD group, superficial lymph nodes biopsies (21 cases), surgery biopsy (9 cases) and CT-guided percutaneous lung biopsy (2 cases) were performed. Hyaline vascular (HV) variant were more common in the UCD group (75% vs 37.5%, P < 0.05). In MCD group, 28 cases were prescribed with chemotherapy, one refused to receive therapy and the rest three were arranged for regular follow-up. Among MCD, 18 cases was improved, 7 cases was stable, 4 cases lost follow-up and 3 cases died.
Conclusions
Intrathoracic MCD was more common than UCD in our hospital. MCD was older, more symptomic and sicker than UCD. HV variant were more common in UCD. All of UCD showed mass in various intrathoracic locations and surgery resection was performed for all and all were alive. Mass, pleural effusion, BO and diffuse pulmonary shadows, including LIP-like images, multiple nodules of different size and sites, patchy, GGO and consolidations were showed in our MCD. Most of MCD cases were arranged with chemotherapy and their prognosis were worse than UCD's.