01.12.2019 | Review | Ausgabe 1/2019 Open Access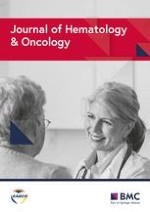 Clinical trial update on bispecific antibodies, antibody-drug conjugates, and antibody-containing regimens for acute lymphoblastic leukemia
Zeitschrift:
Autoren:

Delong Liu, Juanjuan Zhao, Yongping Song, Xiaofeng Luo, Ting Yang
Abbreviations
ALL
Acute lymphoblastic leukemia
CAR
Chimeric antigen receptor
CRS
Cytokine release syndrome
Background
Although high response rate is achieved from the chemotherapy for acute lymphoblastic leukemia (ALL), there is still high relapse rate for adult ALL patients [
1
–
6
]. The prognosis of adults with relapsed/refractory (R/R) ALL is still very poor [
7
,
8
]. With better molecular diagnosis and classification as well as better assessment for minimal residual disease, major progress in the treatment for R/R ALL is being made [
9
–
11
]. Five tyrosine kinase inhibitors (TKIs) are available for chronic myeloid leukemia, and TKIs have made clear contribution to the improvement of outcome in patients with Philadelphia chromosome-positive (Ph+) ALL [
12
–
18
]. In addition to the TKIs, immunotherapeutic agents, blinatumomab, inotuzumab ozogamicin (INO), and chimeric antigen receptor (CAR) T cells are changing the treatment paradigm for ALL [
19
–
29
]. Hyper-CVAD is a commonly used chemotherapy regimen for ALL and has served as a backbone for the development of new regimens [
30
–
36
]. When CD20 expression is present, rituximab is added to chemotherapy regimens [
37
–
41
]. Blinatumomab and INO are being investigated in clinical trials for their incorporation into chemotherapy regimens and combined with TKIs for ALL therapy. The new low-intensity combination regimen, miniHCVD-INO-blinatumomab, appears to be less toxic and more effective. This review summarized new therapeutic researches of ALL and updated latest progress in clinical trials on bispecific antibodies, antibody-drug conjugates, and new regimens incorporating these novel antibodies.
Bispecific T cell-engaging (BiTE) antibodies
Blinatumomab
Novel BiTE antibodies in pre-clinical development
CD3 X CD19 bi-valent BiTE
To enhance binding to leukemia cells expressing low-level CD19 molecules, bi-valent CD3 x CD19 BiTE antibodies, A-329, were produced [
80
]. The bi-valent A-329 BiTE was shown to be more potent in CD19 binding than the mono-valent format A-319 and in vitro human B cell killing (EC50 0.2 pM vs 3.4 pM). A-329 was confirmed to have greater cytotoxicity against a human diffuse large B cell lymphoma (DLBCL) cell line with a low expression of CD19 antigen. In monkey studies, the CD19 bi-valent A-329 BiTE was confirmed in vivo to have potent B cell killing, yet the adverse events were comparable between the mono-valent and bi-valent BiTE antibodies. In conclusion, the bi-valent A-329 appeared to have advantage in targeting tumor stem cells with low CD19 expression.
CD3 x CD20 full-length BiTE
DuoBody®-CD3xCD20 (GEN3013) is a novel BiTE targeting CD20-expressing B cells [
81
]. Different from blina, this DuoBody is a full-length bispecific IgG1 immunoglobulin with an effector function-silenced Fc region. This full-length BiTE was shown to be highly active in vitro with low picomolar EC
50
towards a diverse panel of B cell lines.
CD3 x CD79b BiTE
CD79b is a pan-B cell marker and a component of the B cell receptor complex. CD79b is commonly used for the diagnosis of B cell leukemia and lymphomas. CD3 x CD79b BiTE was shown to induce T cell-dependent cytotoxicity towards CD79b expressing B cells [
82
]. The BiTE was shown to be active against B cell malignant cell lines as well as primary cells from B cell leukemia and lymphomas. These preclinical data were promising and further studies are needed for clinical applications.
Antibody-drug conjugate (ADC) against CD22
CD22 is a common biomarker for B cells [
83
,
84
]. It is expressed in B cells and in most cases of B-ALL. CD19 antigen loss has been observed to be a common mechanism of relapse after CD19-directed BiTE and CAR T cell therapies, yet CD22 remains detected in such cases. Therefore, CD22 antigen serves as a good target to treat R/R ALL [
85
].
Inotuzumab ozogamicin (INO) is an antibody-drug conjugate that consists of a humanized anti-CD22 monoclonal antibody linked to a cytotoxic agent calicheamicin which can cause double-strand DNA breaks and lead to apoptosis [
86
–
88
]. After the conjugate antibody binds to CD22, the CD22-conjugate complex is rapidly internalized. The calicheamicin is then released and results in apoptosis. In a large randomized phase III trial in adults with R/R ALL, single-agent INO was compared with commonly used salvage chemotherapy regimens [
26
]. The study demonstrated a significantly higher CR rate in the INO group than that in the chemotherapy group (80.7% vs 29.4%;
p
 < 0.001), and a longer duration of remission (4.6 months vs 3.1 months;
p
 = 0.03). INO has been approved to treat adult R/R pre-B-ALL (Table
2
). Sino-occlusive syndrome (SOS, also known as veno-occlusive disease (VOD)) with liver function abnormality was reported to be a major adverse event [
89
,
90
]. This treatment should be carefully planned particularly when allo-HSCT is being considered to minimize SOS complications. For patients planning to receive an allogeneic transplant, treatment with inotuzumab ozogamicin should be limited to 2 cycles of induction or the fewest number of cycles required to achieve a CR/CRi (if CR/CRi is not achieved after 2 cycles).
Table 2
Inotuzumab ozogamicin for relapsed or refractory B cell acute lymphoblastic leukemia
Day 1

Day 8

Day 15

Induction*

 Cycle 1

0.8 mg/m2

0.5 mg/m2

0.5 mg/m2

 Cycle length

21 days

Consolidation#

 Dose

0.5 mg/m2

0.5 mg/m2

0.5 mg/m2

 Cycle length

28 days
There are three immunotherapy options currently available for R/R B cell ALL, blina, INO, CD19-targeted CAR T, tisagenlecleucel [
25
,
26
,
28
,
68
,
69
]. It has been reported that tisagenlecleucel is effective in those R/R ALL patients who have failed blina [
91
]. "Off-the-shelf" third-party universal CAR T cells were also reported to be effective in R/R ALL who have failed blina therapy [
92
–
94
]. It remains unclear whether INO is effective in R/R ALL refractory to blina single agent. One case report described effective rescue with INO for a patient with R/R ALL from CML blast crisis who has failed blina therapy [
95
]. In this blina-refractory ALL, INO induced morphological CR but MRD remained positive.
Novel ADC antibodies targeting B cells in preclinical and clinical development
Since CD79b is highly prevalent in B cell leukemia and lymphomas, CD79b-targeted ADCs have been in active preclinical and clinical development. The cytotoxic moieties include MMAE and DM1 that inhibit microtubule polymerization (polatuzumab vedotin, DCDS4501A) [
96
–
99
]. These CD79b-targeted ADCs have been tested in phase I/II clinical trials in B cell lymphomas. Early results are promising and the study on polatuzumab vedotin is completing (NCT01691898).
Another CD22 antibody was linked to MMAE in a new ADC targeting CD22 expressing B cells [
98
,
100
]. The agent, pinatuzumab vedotin, was shown to be active in the preclinical studies. A multi-center, open-label, phase I study of this agent in B cell lymphoma and CLL has completed patient enrollment (NCT01209130).
New regimens incorporating antibodies
Blinatumomab + TKI
Antibodies + chemotherapy regimens
Conclusions and future perspectives
TKIs, bispecific antibodies, antibody-drug conjugates, and CAR T cells are changing the treatment paradigm for ALL. More targeted agents including BTK inhibitors (ibrutinib, acalabrutinib), BCL-2 inhibitor (venetoclax), and immune checkpoint inhibitors are being studied for ALL therapy [
120
–
123
]. It remains unclear at this time how to position and sequence these new agents and regimens. When and how to use allo-HSCT in the overall treatment algorithm of B cell precursor ALL is another challenge. The current trend points to the direction to use less cytotoxic chemotherapy and more targeted agents as well as immunotherapeutic agents including blina, INO, and CAR T cells. Studies are ongoing to use these agents in frontline settings, particularly in older patient population. It is foreseeable that with targeted, more efficacious and less toxic regimens, the outcome from ALL therapy will be significantly improved.
Acknowledgements
We are grateful that Drs. Elias Jabbour and Nicholas J. Short from the MD Anderson Cancer Center reviewed Tables
3
and
4
and helped revising the regimen schedules. DL is a Professor of Medicine, Department of Medicine, New York Medical College and Westchester Medical Center, Valhalla, NY 10595, USA.
Funding
The study is partly supported by the First Affiliated Hospital of Zhengzhou University, Zhengzhou, China. This work was supported partly by the National and Fujian Provincial Key Clinical Specialty Program, The Construction project of Fujian Hematology Medical Center (Min201704, Ting Yang), and the National Natural Science Foundation of China (81570162, Ting Yang).
Availability of data and materials
The material supporting the conclusion of this review has been included within the article.
Ethics approval and consent to participate
This is not applicable for this review.
Consent for publication
This is not applicable for this review.
Competing interests
The authors declare that they have no competing interests.
Publisher's Note
Springer Nature remains neutral with regard to jurisdictional claims in published maps and institutional affiliations.
Open Access
This article is distributed under the terms of the Creative Commons Attribution 4.0 International License (
http://​creativecommons.​org/​licenses/​by/​4.​0/​
), which permits unrestricted use, distribution, and reproduction in any medium, provided you give appropriate credit to the original author(s) and the source, provide a link to the Creative Commons license, and indicate if changes were made. The Creative Commons Public Domain Dedication waiver (
http://​creativecommons.​org/​publicdomain/​zero/​1.​0/​
) applies to the data made available in this article, unless otherwise stated.