01.12.2017 | Rapid communication | Ausgabe 1/2017 Open Access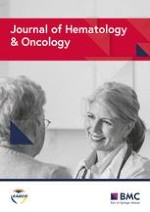 Clinical trials of CAR-T cells in China
Zeitschrift:
Autoren:

Bingshan Liu, Yongping Song, Delong Liu
Abbreviations
ALL
Acute lymphoblastic leukemia
BCMA
B cell maturation antigen
DLBCL
Diffuse large B cell lymphoma
Background
Novel immunotherapeutic agents targeting CTLA-4, programmed cell death-1 protein receptor (PD-1), and the ligand PD-L1 are revolutionizing cancer therapy [
1
–
7
]. Cancer immunotherapy by re-igniting T cells through blocking PD-1 and PD-L1 is highly potent in a variety of malignancies [
8
–
12
]. Allogeneic hematopoietic stem cell transplantation has been proven to be a curative immunotherapy for leukemia though with significant toxicities [
13
–
18
]. Autologous T cells with re-engineered chimeric antigen receptors (CAR-T) have been successfully used for leukemia and lymphoma without graft-vs-host diseases [
19
–
25
]. The first such product, tisagenlecleucel, has recently been approved for clinical therapy of refractory B cell acute lymphoblastic lymphoma (ALL). More and more clinical trials of CAR-T cells are being done throughout the world [
26
–
38
].
In recent years, more and more clinical trials from China are being done and registered in
ClinicalTrials.​gov
. CAR-T cells have become a major source of cellular immunotherapy in China. This study summarized the CAR-T clinical trials being conducted in China and provided a quick glimpse of the landscape of CAR-T studies in China.
Methods
We searched
ClinicalTrials.​gov
using keywords "CAR T," "CAR-T," "chimeric antigen receptor," "adoptive therapy," "third generation chimeric," and "fourth generation chimeric"; country: China. All relevant trials registered at the
ClinicalTrials.​gov
prior to July 18, 2017, were included in the analysis. One trial was excluded (NCT03121625) because the target antigen was not disclosed. A search of the PubMed database was also done to include those trials and cases that have been published.
Results
Discussion
This study analyzed CAR-T trials in China. Most CAR-T trials are employing autologous T cells. CD19 is the most commonly targeted antigen. Therefore, B cell leukemia and lymphoma are the most common malignancies in CAR-T trials. Solid tumors remain a significant challenge for CAR-T therapy [
45
,
70
,
73
,
74
]. Challenges include selection of target antigens, management of toxicities, and modulation of tumor microenvironment [
75
,
76
]. Loss of CD19 expression is a known mechanism for relapse from CD19-directed CAR-T therapy [
77
]. The first CAR-T product, tisagenlecleucel, was recently approved. KTE-C19 for large cell lymphoma is under evaluation by FDA [
25
,
60
]. It is unclear which product among many ongoing clinical CAR-T trials in China has independent patent that may lead to final approval for clinical application in China.
It has been well documented that CAR-T cells can cross the blood-brain barrier [
23
,
78
,
79
]. CAR-T cells may become an effective therapy for refractory CNS diseases [
66
,
71
,
78
–
81
]. In addition to trials of single-target CAR-T cells, simultaneous and sequential CAR-T cells are being studied for clinical applications [
70
]. Multi-target CAR-engineered T cells are also entering clinical trials (Tables
2
,
3
, and
4
).
The currently approved tisagenlecleucel CAR-T therapy relies on transduction of autologous T cells from patients. It is important therefore to be able to reliably obtain and propagate adequate amount of T cells. This may become a major limitation for wide application of this new therapy. Therefore, newer CARs are being actively investigated [
41
,
82
–
84
]. Universal CAR-Ts have been generated by inactivating HLA class I molecules and used successfully in patients [
82
,
85
,
86
]. Allogeneic CAR-T cells are entering clinical trials [
42
,
87
]. T cell receptor-engineered CAR-T cells represent another frontier in CAR-T cell development [
88
–
90
]. It is foreseeable that CAR-T immunotherapy will become a major modality of cancer therapy (Table
5
) [
91
].
Acknowledgements
This study was partly supported by Henan Cancer Hospital and The Affiliated Cancer Hospital of Zhengzhou University.
Funding
This project was partly supported by the Zhengzhou University training fellowship (BL) and by the National Natural Science Foundation of China (NSFC grant no. 81470287, YPS). BL is a recipient of the 2017 CAHON Young Investigator Award (
www.​cahon.​org
).
Availability of data and materials
The material supporting the conclusion of this study has been included within the article.
Ethics approval and consent to participate
This is not applicable for this study.
Consent for publication
This is not applicable for this study.
Competing interests
The authors declare that they have no competing interests.
Open Access
This article is distributed under the terms of the Creative Commons Attribution 4.0 International License (
http://​creativecommons.​org/​licenses/​by/​4.​0/​
), which permits unrestricted use, distribution, and reproduction in any medium, provided you give appropriate credit to the original author(s) and the source, provide a link to the Creative Commons license, and indicate if changes were made. The Creative Commons Public Domain Dedication waiver (
http://​creativecommons.​org/​publicdomain/​zero/​1.​0/​
) applies to the data made available in this article, unless otherwise stated.