11.06.2019 | Review | Ausgabe 4/2019 Open Access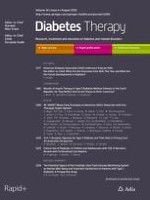 Clinical Use of Degludec in Children and Adolescents with T1D: A Narrative Review with Fictionalized Case Reports
Zeitschrift:
Autoren:

Nandu Thalange, Torben Biester, Thomas Danne
Wichtige Hinweise
Enhanced Digital Features
Introduction
Challenges of the Pediatric Population with T1D
Type 1 diabetes (T1D) is primarily diagnosed in children and adolescents (i.e., patients aged less than 20 years) [
1
]. The incidence of T1D is rising and this is most notable in prepubertal children, where the rise is greatest [
1
]. Projections incorporating this rising incidence estimate a tripling of new cases of T1D in this group from 2010 to 2050 [
2
].
Children and adolescents with T1D present a challenge to clinicians because of their developmental immaturity (physiological and psychological), their heterogeneous and often unpredictable lifestyles (diet, exercise, support in management of diabetes, and sleeping patterns), and long periods without their usual parent/guardian carer [
3
,
4
]. While guidelines such as those from the International Society for Pediatric and Adolescent Diabetes (ISPAD) are developed to support clinicians requiring guidance for many of the common challenges in this population of patients, it is not within the scope of the guidelines to provide tailored recommendations for the numerous prandial and basal insulins on the market [
5
]. Therefore, clinicians seeking advice beyond the information in the product label may turn to clinical trial data to learn more about the practicalities of using a basal insulin. However, there are few clinical trials investigating the use of basal insulin in children and adolescents with T1D in daily life, and because data from clinical trials in adults with T1D are not applicable to the pediatric population such as differences in insulin exposure [
4
], different basal/bolus ratio, and insulin resistance and there is an unmet need regarding guidance on how to use basal insulins safely and effectively in different clinical scenarios. Despite being essential for these patients (i.e., without administration of exogenous insulin, T1D is a fatal condition), the limited evidence base for safe use means that many modern basal insulins analogs are not (or were only recently) approved for use in the full age spectrum for the pediatric population with T1D (birth to less than 18 years old).
Insulin degludec (degludec) is one exception to these generalizations, representing the only ultra-long-acting insulin analog indicated for T1D and type 2 diabetes (T2D) in children as young as 1 year of age [
6
,
7
], with clinical studies demonstrating its equivalent pharmacokinetics (PK) to adults [
4
] and comparative effectiveness compared with other basal insulins [
8
]. Degludec is available in both 100 units/mL or 200 units/mL FlexTouch
®
pens, depending on country.
The purpose of this article is to inform clinicians about the unique characteristics of degludec and how to adapt/employ these in the treatment of children and adolescents with T1D. To this end, we provide detailed guidance based on a range of fictionalized case histories drawn from real life. These examples illustrate how best to use degludec when initiating or switching basal insulin, how to titrate dose in the event of poor control, hypoglycemia, or following an episode of diabetic ketoacidosis (DKA), and how to adapt degludec administration when there is inconsistency in care or lifestyle. However, it should be noted that it is important to check the Summary of Product Characteristics for individual countries to confirm conditions of use and also any relevant local or national regulations concerning reimbursement in children and adolescents. This paper does not contain any experimental studies using human participants or animals performed by any of the authors. Rather, it utilizes the authors' practical experience of clinical use of degludec in children and adolescents.
PK Profile of Degludec
Guidance and Clinical Cases
Summary
The currently available basal insulin analogs in children and adolescents under 18 years old are glargine, detemir, and degludec, which have different modes of action. Basal analogs are more expensive than NPH but show a more predictable insulin effect with less day-to-day variation, compared to NPH insulin [
5
]. In this narrative review of degludec use in children and adolescents with T1D we have illustrated how the unique PK profile of degludec offers solutions to a wide spectrum of issues faced by this challenging patient population. The stability and flexibility of degludec can help patients and caregivers address issues most commonly associated with this population, i.e., unpredictable lifestyle, poor treatment adherence, and higher risk of hypoglycemia.
Resources
For clinicians seeking additional resources for patients and caregivers, a wealth of resources are available at the Pediatric Resource Center for Tresiba ®.
Acknowledgements
All authors had full access to all of the information in this review and take complete responsibility for the integrity and accuracy of the information in this review.
Funding
This review and the article processing charges were funded by Novo Nordisk.
Medical Writing Assistance
Medical writing and submission support was provided by Sam Mason and Germanicus Hansa-Wilkinson of Watermeadow Medical, an Ashfield company, part of UDG Healthcare plc, funded by Novo Nordisk.
Authorship
All named authors meet the International Committee of Medical Journal Editors (ICMJE) criteria for authorship for this article, take responsibility for the integrity of the work as a whole, and have given their approval for this version to be published.
Disclosures
Nandu Thalange has received fees for speaking and consulting from Novo Nordisk A/S, Pfizer, Abbott. Torben Biester received research support from Medtronic, Speaker's honoraria from Medtronic, Ypsomed, DexCom, Roche, travel support Novo Nordisk A/S and AstraZeneca. Thomas Danne received honoraria and research support from BMS/AstraZeneca, Boehringer Ingelheim, Eli Lilly, Medtronic, Novo Nordisk A/S, Sanofi and Roche.
Compliance with Ethics Guidelines
This paper does not contain any experimental studies using human participants or animals performed by any of the authors. Rather, it utilizes the authors' practical experience of clinical use of degludec in children and adolescents.
Data Availability
Data sharing is not applicable to this article as no datasets were generated or analyzed during the current study. Further information regarding the figure provided by Tim Heise can be requested from the corresponding author of the present review.
Open Access
This article is distributed under the terms of the Creative Commons Attribution-NonCommercial 4.0 International License (
http://​creativecommons.​org/​licenses/​by-nc/​4.​0/​
), which permits any noncommercial use, distribution, and reproduction in any medium, provided you give appropriate credit to the original author(s) and the source, provide a link to the Creative Commons license, and indicate if changes were made.