14.06.2016 | Original Article | Ausgabe 9/2016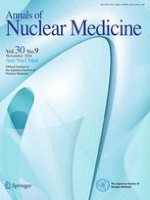 Clinical usefulness of post-treatment FDG PET/CT in patients with ovarian malignancy
Zeitschrift:
Autoren:

Eun Ji Han, Hye Lim Park, Yong Seok Lee, Eun Kyung Park, Min Jong Song, Ie Ryung Yoo, Sung Hoon Kim, Woo Hee Choi
Abstract
Objective
We aimed to evaluate the diagnostic and prognostic value of post-treatment fluorine-18-fluorodeoxyglucose (FDG) positron emission tomography (PET)/computed tomography (CT) in patients treated for ovarian malignancy.
Methods
We retrospectively reviewed post-treatment PET/CT images of patients treated for histologically confirmed ovarian malignancy. The diagnostic accuracy of PET/CT for detection of disease recurrence or second primary malignancy was calculated, and the impact of PET/CT on patient management was evaluated. The association between PET/CT result and overall survival (OS) was assessed using Cox regression analysis.
Results
In total, 416 PET/CT cases of 268 ovarian malignancy patients (mean age, 50 ± 13 years) were included. Of 416 cases, 87 (21 %) were interpreted as PET/CT positive and 329 as negative. The sensitivity, specificity, accuracy, positive predictive value and negative predictive value were 98.8, 98.2, 98.3, 93.1 and 99.7 %, respectively. Of 362 cases for surveillance, changes in management occurred based on PET/CT in 38 (11 %). Of 54 cases with clinical suspicion, PET/CT ruled out disease recurrence in 9 (17 %). The median follow-up period from PET/CT imaging was 26.7 months, and 24 patients (9 %) died during the follow-up period. In univariate analyses, age, FIGO stage, history of prior recurrence and PET/CT results were significantly associated with OS. PET/CT results remained significantly associated with OS in the multivariate analysis (
p
< 0.05).
Conclusions
Post-treatment PET/CT was a useful modality for the detection of disease recurrence or second primary malignancy that could improve the likelihood of proper treatment and help predict outcome in patients with ovarian malignancy.