10.11.2020 | Original Article | Ausgabe 2/2021 Open Access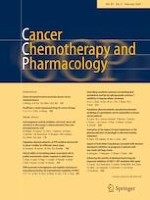 Clinical utility of circulating tumor-associated cells to predict and monitor chemo-response in solid tumors
Zeitschrift:
Autoren:

Timothy Crook, Andrew Gaya, Raymond Page, Sewanti Limaye, Anantbhushan Ranade, Amit Bhatt, Sanket Patil, Prashant Kumar, Darshana Patil, Dadasaheb Akolkar
Wichtige Hinweise
Electronic supplementary material
Publisher's Note
Springer Nature remains neutral with regard to jurisdictional claims in published maps and institutional affiliations.
Abstract
Purpose
Selection of cytotoxic chemotherapy agents (CCA) based on pre-treatment evaluation of drug sensitivities is a desirable but unmet goal for personalized anticancer treatment strategies. Prior attempts to correlate
in
vitro Chemo-Response Profiles (CRP) of tumor explants or Circulating Tumor Cells (CTCs) with clinical outcomes have been largely unsuccessful.
Methods
We present results from a large cohort (
n
 = 5090, three Arms) of patients with various solid organ tumors, where CRP of Circulating Tumor-Associated Cells (C-TACs) was determined against cancer-specific CCA panels to generate a database of 56,466 unique CRP.
Results
In Arm 1 (
n
 = 230), 93.7% concordance was observed between CRP of C-TACs and concurrently obtained Tumor tissue Derived Cells (TDCs). In arm 2 (
n
 = 2201, pretreated), resistance of C-TACs to ≥ 1 CCA was observed in 79% of cases. In a blinded subset analysis of 143 pretreated patients with radiologically ascertained disease progression, CRP of C-TACs was 87% concordant with in vivo treatment failure. In Arm 3 (
n
= 2734, therapy naïve), innate resistance of C-TACs to ≥ 1 CCA was observed in 61% of cases. In a blinded subset analysis of 77 therapy naïve patients, in vitro chemo-sensitivity of C-TACs was concordant with radiologically ascertained treatment response to first line CCA in 97% of cases.
Conclusion
To our knowledge, this is the first expansive and in-depth study demonstrating that real-time CRP of C-TACs is a viable approach for non-invasive assessment of response to CCA in solid organ cancers.