01.01.2013 | Review | Ausgabe 1/2013 Open Access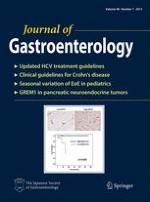 Clinical utility of quantitative HBsAg in natural history and nucleos(t)ide analogue treatment of chronic hepatitis B: new trick of old dog
Zeitschrift:
Autoren:

Tai-Chung Tseng, Jia-Horng Kao
Wichtige Hinweise
Part of this review was presented at The 3rd International Forum of the 98th General Meeting of the Japanese Society of Gastroenterology.
Abstract
Using commercial quantitative assays, quantitative hepatitis B surface antigen (qHBsAg) has improved our understanding and management of chronic hepatitis B (CHB). The HBsAg level is highest in the immune tolerance phase, starts to decline during the immune clearance phase, and decreases slowly but progressively after hepatitis B e antigen (HBeAg) seroconversion. The HBsAg level is lowest in individuals with an inactive carrier state but higher in those who develop HBeAg-negative hepatitis. It has been shown that a reduction of HBsAg by 1 log IU/mL or more reflects improved host immune control of HBV infection. A combination of HBsAg <1000 IU/mL and HBV-DNA <2000 IU/mL can identify a 3-year inactive state in a genotype D HBeAg-negative carrier population. In the Asian-Pacific region, where HBV genotypes B and C are dominant, HBsAg levels of ≤10–100 IU/mL predict HBsAg loss over time. As to the prediction of disease progression, low-viremic carriers with HBsAg >1000 IU/mL have been shown to be at higher risks of HBeAg-negative hepatitis, cirrhosis, and hepatocellular carcinoma than those with HBsAg <1000 IU/mL. Although qHBsAg has been widely used in CHB patients receiving pegylated interferon therapy, the HBsAg decline is slow and does not correlate with HBV-DNA levels during nucleos(t)ide analogue (NUC) therapy. However, a rapid HBsAg decline during NUC therapy may identify patients who will finally clear HBsAg. A 6- to 12-monthly assessment of HBsAg level could be considered during NUC therapy. Taking these lines of evidence together, qHBsAg can complement HBV-DNA levels to optimize the management of CHB patients in our daily clinical practice.