01.12.2018 | Research article | Ausgabe 1/2018 Open Access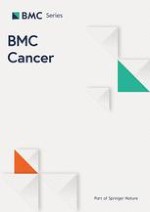 Clinically significant association of elevated expression of nuclear factor E2-related factor 2 expression with higher glucose uptake and progression of upper urinary tract cancer
Zeitschrift:
Autoren:

Akinori Nukui, Takahiro Narimatsu, Tsunehito Kambara, Hideyuki Abe, Setsu Sakamoto, Ken-Ichiro Yoshida, Takao Kamai
Wichtige Hinweise
Electronic supplementary material
Abstract
Background
There is growing evidence that the transcription factor nuclear factor E2-related factor 2 (Nrf2) is the major participant in regulating antioxidants and pathways for detoxifying reactive oxygen species (ROS), as well as having a vital role in tumor proliferation, invasion, and chemoresistance. It was also recently reported that Nrf2 supports cell proliferation by promoting metabolic activity. Thus, Nrf2 is involved in progression of cancer. Upper urinary tract urothelial carcinoma (UTUC) is a biologically aggressive tumor with high rates of recurrence and progression, resulting in a poor prognosis. However, the role of Nrf2 in UTUC is largely unknown.
Methods
In order to study the role of Nrf2 in UTUC from the metabolic perspective, we retrospectively assessed Nrf2 expression in the surgical specimen and the preoperative maximum standard glucose uptake (SUVmax) on [18F]fluorodeoxy-glucose positron emission tomography (18F-FDG-PET) of 107 patients with UTUC who underwent radical nephroureterectomy.
Results
Increased expression of Nrf2 in the primary lesion was correlated with less differentiated histology, local invasion, and lymph node metastasis, and was also an independent indicator of shorter overall survival according to multivariate analysis. Furthermore, increased expression of Nrf2 was associated with higher preoperative SUVmax by the primary tumor on 18F-FDG-PET, while Nrf2 expression and SUVmax were also significantly correlated in the metastatic lymph nodes. Among the 18 patients with lymph node metastasis at nephroureterectomy who underwent retroperitoneal lymph node dissection and received adjuvant chemotherapy, the patients with higher Nrf2 expression in the primary tumor had worse recurrence-free survival.
Conclusions
These results suggest that constitutive activation of Nrf2 might be linked with tumor aerobic glycolysis and progression of UTUC, indicating that Nrf2 signaling in the tumor microenvironment promotes progression of UTUC.