01.11.2010 | Symposium: Highlights of the ISOLS/MSTS 2009 Meeting | Ausgabe 11/2010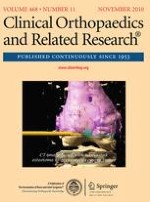 Clinicopathologic Prognostic Factors of Pure Myxoid Liposarcoma of the Extremities and Trunk Wall
Zeitschrift:
Autoren:

MD, PhD Yoshihiro Nishida, MD, PhD Satoshi Tsukushi, MD, PhD Hiroatsu Nakashima, MD, PhD Naoki Ishiguro
Wichtige Hinweise
One of the authors (YN) has received funding from the Ministry of Education, Culture, Sports, Science and Technology of Japan (Grant-in-Aid 20591751 for Scientific Research [C]).
Each author certifies that his institution has approved the human protocol for this investigation, that all investigations were conducted in conformity with ethical principles of research, and that informed consent was obtained.
This work was performed at Nagoya University Graduate School and School of Medicine.
Abstract
Background
Myxoid liposarcoma is generally considered a low grade tumor but the presence of areas of round cells exceeding 5% is reportedly associated with a worse prognosis. Whether "pure" tumors without round cells are low grade has not been confirmed. While radiotherapy has been used for patients' myxoid liposarcoma it is unclear whether it reduces local recurrences.
Questions/purposes
We therefore determined the survival, roles of radiotherapy for local control, and prognostic factors of pure myxoid liposarcoma of the extremities and trunk wall.
Methods
We retrospectively reviewed 53 patients histologically diagnosed with pure myxoid liposarcoma arising in extremities and the trunk wall. Nine patients of the 53 received radiotherapy for primary tumors. Clinical features and prognosis was determined, and various factors were analyzed as to their usefulness as prognostic factors (age, gender, location, size, depth, surgical margin, and adjuvant radiotherapy). The minimum followup was 12 months (mean, 60 months; range, 12–226 months).
Results
Seven (13%) and 6 (11%) patients developed a local recurrence and distant metastasis, respectively. The 5- and 10-year disease-specific and disease-free survival rates were 90% and 83% and 77% and 77%, respectively. Radiotherapy had no impact on either overall or disease free survival. Age (older than 60 years) independently predicted worse overall and disease-free survival.
Conclusions
In pure myxoid liposarcoma located in the extremities and trunk wall, relatively few patients developed distant metastasis suggesting the tumor is generally low grade. Local control could be achieved with wide surgical margins without radiotherapy. Age was associated with lower survival but size and depth were not. Myxoid liposarcoma in older patients requires special consideration for treatment and followup.
Level of Evidence
Level III, prognostic study. See Guidelines for Authors for a complete description of levels of evidence.