20.10.2020 | Original Article | Ausgabe 1/2021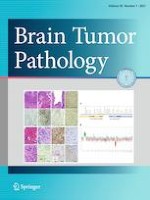 Clinicopathologic significance of MYD88 L265P mutation and expression of TLR4 and P-STAT3 in primary central nervous system diffuse large B-cell lymphomas
Zeitschrift:
Autoren:

Dabei Tang, Wenjia Su, Xiaowei Wang, Zhong Chu, Lei Zhang, Jin Zhou, Qingyuan Zhang
Wichtige Hinweise
Dabei Tang and Wenjia Su made the same contribution to the paper, and should be recognized as co-first authors.
Publisher's Note
Springer Nature remains neutral with regard to jurisdictional claims in published maps and institutional affiliations.
Abstract
Patients with primary central nervous system lymphoma (PCNSL) have a prognosis poorer than that of systemic lymphoma patients. In patients with this condition, TLR4/STAT3 pathway alterations and the MYD88 L265P mutation may be viable targets for therapeutic intervention. The present study was, therefore, designed to identify clinicopathologic correlates of MYD88 mutations and TLR4/STAT3 pathway alterations in PCNSL. We detected TLR4 and p-STAT3 in 41.5% (22/53) and 43.4% (23/53) of PCNSL patients, respectively, while 60.4% of these patients (32/53) were found to harbor the MYD88 L265P mutation. TLR4 expression was found to be significantly associated with the presence of multiple brain lesions, while p-STAT3 expression was significantly linked to advanced age, the presence of multiple brain lesions, non-GCB histological findings, and non-CR status. The presence of the MYD88 L265P mutation was significantly linked to advanced age, the presence of multiple brain lesions, and DLBCL molecular subtype. Multivariate analyses additionally confirmed that elevated TLR4 and p-STAT3 expression levels are associated with a poorer PCNSL patient prognosis. Based on these findings, we hypothesize that signaling through the TLR4/MYD88/STAT3 pathway plays a key role in the pathogenesis of PCNSL.