11.06.2019 | Original Article | Ausgabe 3/2019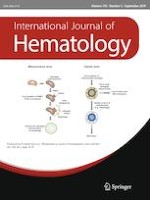 Clinicopathological characteristics of diffuse large B-cell lymphoma involving small and large intestines: an analysis of 126 patients
Zeitschrift:
Autoren:

Akiko Miyagi Maeshima, Hirokazu Taniguchi, Yuta Ito, Shunsuke Hatta, Tomotaka Suzuki, Sayako Yuda, Shinichi Makita, Suguru Fukuhara, Wataru Munakata, Tatsuya Suzuki, Dai Maruyama, Koji Izutsu
Wichtige Hinweise
Publisher's Note
Springer Nature remains neutral with regard to jurisdictional claims in published maps and institutional affiliations.
Abstract
We analyzed the clinicopathologic characteristics of 136 intestinal diffuse large B-cell lymphomas (DLBCLs) among 126 patients. The DLBCL sites were categorized as: duodenum (
n
= 23), ileocecal region (
n
= 63), other small intestine (
n
= 29), rectum (
n
= 7), and other large intestine (
n
= 14). Patients with DLBCLs of the ileocecal region or other small intestine frequently underwent surgery for ileus or perforations (
P
< 0.001), were predominantly male (
P
= 0.042), and had a higher incidence of limited-stage disease (
P
= 0.001), lower International Prognostic Index (
P
= 0.015), and lower incidence of lactate dehydrogenase elevation (
P
= 0.007) than those with DLBCLs of other regions. Half of the intestinal DLBCLs exhibited the germinal center B-cell phenotype. A low-grade B-cell lymphoma background was found in 21% of the cases; the prevalence was significantly lower in the ileocecal region (13%,
P
= 0.025), suggesting a higher incidence of de novo DLBCLs. Intestinal follicular lymphoma (FL) and mucosa-associated lymphoid tissue (MALT) lymphoma backgrounds were observed in 10% and 0% of the cases, respectively. Five percent (5/107) of intestinal DLBCL cases were Epstein–Barr virus-encoded RNA-1 positive. The clinicopathologic characteristics of the DLBCLs differed by region. Histologic transformation of intestinal FL was observed in around 10% of the intestinal DLBCL cases.