01.12.2017 | Case Report | Ausgabe 1/2017 Open Access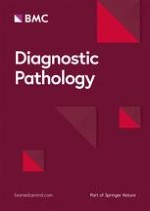 Clinicopathological study of 9 cases of prostate cancer involving the rectal wall
Zeitschrift:
Autoren:

Tao Tang, Zhengduo Yang, Dan Zhang, Jie Qu, Guang Liu, Shiwu Zhang
Background
Prostate cancer is the second most frequently diagnosed cancer and the fifth leading cause of cancer death among men worldwide [
1
]. In China, the incidence rate of prostate cancer was 1.6/100 000 individuals. However, its incidence has been increasing each year [
2
]. Prostate cancer risk factors include a family history of the disease, ethnicity, and in particular older age [
3
], with most cases occurring in men older than 50 years [
4
–
6
]. With more comprehensive screening techniques being increasingly used in China, the incidence of prostate cancer may rapidly increase in the future [
2
].
The prostate is located in the pelvis, under the urinary bladder and in front of the rectum. Because of its location, prostate cancer often affects urination, ejaculation, and more rarely, defecation. Prostate cancer may invade the nearby organs including the rectum, bladder, and ureters, and metastasize to the bones and lymph nodes [
7
–
9
]. The presenting symptoms include difficulty urinating, blood in the urine, and pelvic pain [
10
,
11
]. Because of its proximity to the rectum, prostate cancer can be misdiagnosed as rectal cancer.
There is a thick capsule (Denonvilliers' fascia) between the prostate and rectal wall [
12
], and prostate cancer accompanied by rectal invasion is rare [
13
,
14
]. In the present study, we retrospectively analyzed 9504 cases diagnosed as rectal cancer in our hospital from 2003 to 2015, and report the clinicopathological characteristics of 9 cases of prostate cancer with rectal wall invasion misdiagnosed as rectal cancer. In these 9 patients, the initial symptoms in 8 patients were rectal urgency, bowel obstruction, and lower gastrointestinal bleeding, and prostate-related symptoms were not obvious. A definitive diagnosis of prostate cancer invading the rectum can be made based on the patients' history, the morphological features of the cancer, and immunohistochemical (IHC) analyses. Furthermore, the serum prostate-specific antigen (PSA) levels and the ratio of free PSA to unbound PSA can be helpful in avoiding a clinical misdiagnosis [
15
].
Case presentation
Discussion
Here, we reviewed the data of 9 patients with prostate cancer involving the rectal wall, only 1 of whom had a history of prostate cancer. They were all clinically diagnosed with rectal carcinoma. One patient who underwent chemotherapy for a clinical diagnosis of rectal carcinoma, prior to the correct diagnosis of prostate cancer, died shortly after treatment because of prostate cancer metastasis, which emphasizes the importance of an accurate and timely diagnosis.
Conclusions
In the present study, we identified a number of considerations to keep in mind when making a differential diagnosis of prostate cancer. First, most colorectal cancers arise from adenomatous polyps [
42
,
43
] and transitional lesions (low-grade or high-grade intraepithelial neoplasia) between the normal epithelium and carcinoma, and often appear in the rectal mucosal layer, which can help judge the origination of rectal lesions. Intraepithelial neoplasia does not occur in rectal metastatic tumors derived from prostate cancer. Second, the medical history of the patient should be carefully evaluated because 1 of the patients in this study presented with a history of prostate cancer. When a tumor mass appears in the rectal wall of patients with a medical history of prostate cancer, the diagnosis of rectal cancer should only be reached after prostate cancer has been ruled out. Third, IHC staining for tissue-specific markers provides significant support, enabling pathologists to determine an accurate and definitive diagnosis. Furthermore, in elderly male patients who have a tumor mass in the rectum, the differential diagnosis of prostate cancer must be performed to avoid misdiagnosis. Any treatment should be postponed until the final definitive diagnosis is reached.
Acknowledgements
We thank Prof. Xiaochun Xu from M.D.Anderson Cancer Center, Houston, USA, for providing the professional language edit.
Funding
This work was supported in part by grants from the National Science Foundation of China (81472729, 81672426), the Foundation of Tianjin Health Bureau (2014KY29, 2015KY28, 15KG112).
Availability of data and materials
We declared that materials described in the manuscript, including all relevant raw data, will be freely available to any scientist wishing to use them for non-commercial purposes, without breaching participant confidentiality.
Authors' contributions
SZ participated in study design, execution, analysis and interpretation of data, and drafting the manuscript. TT and ZY participated in analysis of data. DZ participated in study design, analysis and interpretation of data, and drafting the manuscript. JQ assisted in execution of the study. SZ and GL conceived of the study design, participated in data analysis and interpretation, and in drafting the manuscript. All authors read and approved the final manuscript.
Competing interests
The authors declare that they have no competing interests.
Consent for publication
Not applicable.
Ethics approval and consent to participate
The authors declare that this study was approved by the Ethics Committee of Tianjin Union Medical Center (reference number: B01/01.13.2015).
Open Access
This article is distributed under the terms of the Creative Commons Attribution 4.0 International License (
http://​creativecommons.​org/​licenses/​by/​4.​0/​
), which permits unrestricted use, distribution, and reproduction in any medium, provided you give appropriate credit to the original author(s) and the source, provide a link to the Creative Commons license, and indicate if changes were made. The Creative Commons Public Domain Dedication waiver (
http://​creativecommons.​org/​publicdomain/​zero/​1.​0/​
) applies to the data made available in this article, unless otherwise stated.