26.11.2018 | Case Report - Vascular Neurosurgery - Aneurysm | Ausgabe 1/2019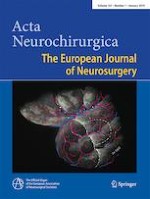 Clipping of a superior hypophyseal artery aneurysm during endoscopic transnasal removal of a Rathke cleft cyst: a case report
Zeitschrift:
Autoren:

Carlo Serra, Martina Sebök, Lukas Widmer, Marian Christoph Neidert, Luca Regli
Wichtige Hinweise
Electronic supplementary material
This article is part of the Topical Collection on
Vascular Neurosurgery - Aneurysm
Comments
The authors describe a case report of concomitant Rathke cyst removal and SHA aneurysm clipping. One could argue that the Acom aneurysm has a higher risk of bleed albeit small (and should have also been treated during the same setting). Then exposure of Acom is not quite more complicated once the suprasellar cistern is exposed. Also the addition of a binostril technique offers a much better maneuverability of instruments, and most importantly dealing with potential bleeding if it occurs. In larger medial carotid aneurysms, the best segment of carotid for proximal occlusion is the cavernous segment (C4). The presented case report has worked beautifully in their hand but attention to the criticism above is important for more complex cases.
Amir Dehdashti
NY, USA
Abstract
The concomitant presence of an aneurysm in contact with a sellar lesion usually contraindicates a transsphenoidal approach (TSS). Clipping of an intracranial aneurysm is however possible in highly selected cases also through an endoscopic TSS approach, as long as the basic principles of cerebrovascular surgery are respected. We report thus on a case of a patient harboring a Rathke cleft cyst (RCC) and an aneurysm of the carotid artery (ICA) in close contact with the RCC. The anatomical characteristics of both lesions warranted an endoscopic TSS for removal of the RCC and clipping of the aneurysm during the same approach.